I started a public arts project with the help of community leaders and local artists around 2010.  This project took place in my hometown of Mira Mesa, a neighborhood I grew up in San Diego to beautify the streets by painting electrical boxes and here are a few of  my favorite contributions.  (That's me)  Some of these artworks are public art that is not on electrical boxes, but painted with the same intent.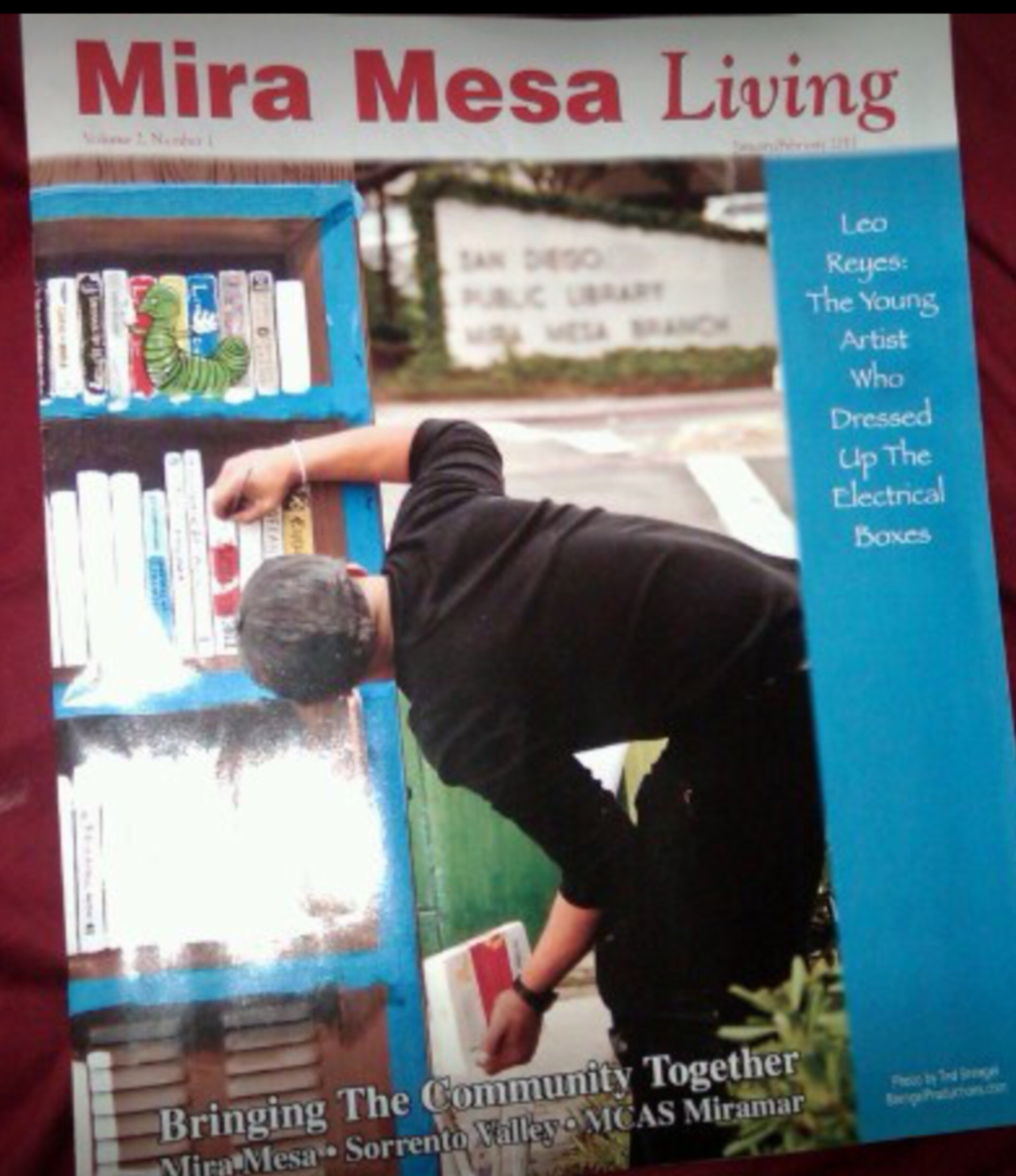 –
–
This is a bookshelf across the street from the public library.  "My" public library.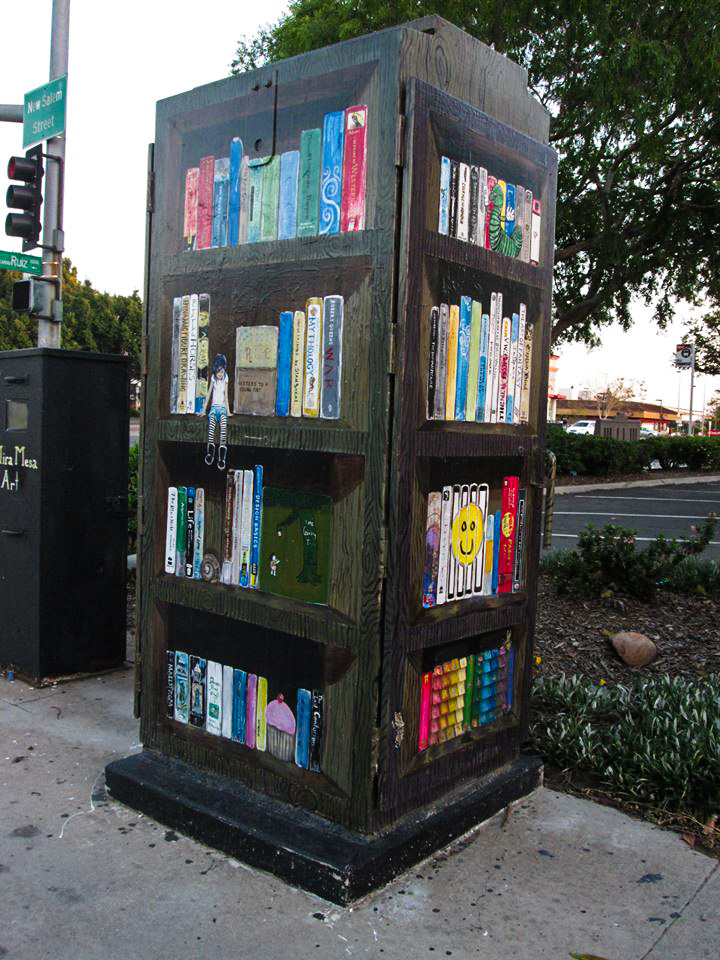 –
–
We brought our caterpillar back to life with a little paint.
Caterpillar at MM community park.  A little retouch.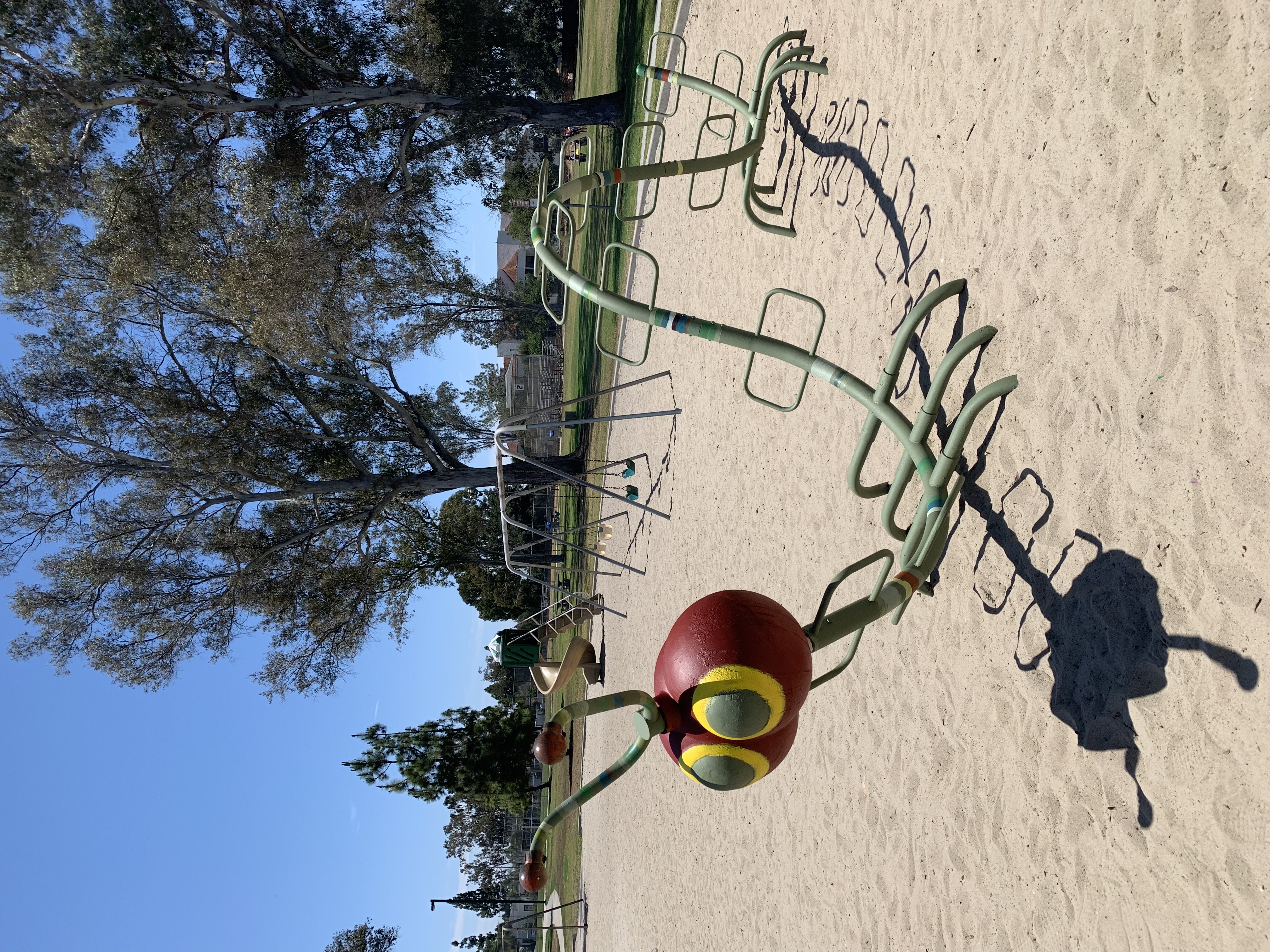 –
–
This was one in the inner neighborhoods and I painted the local wildflowers in the design.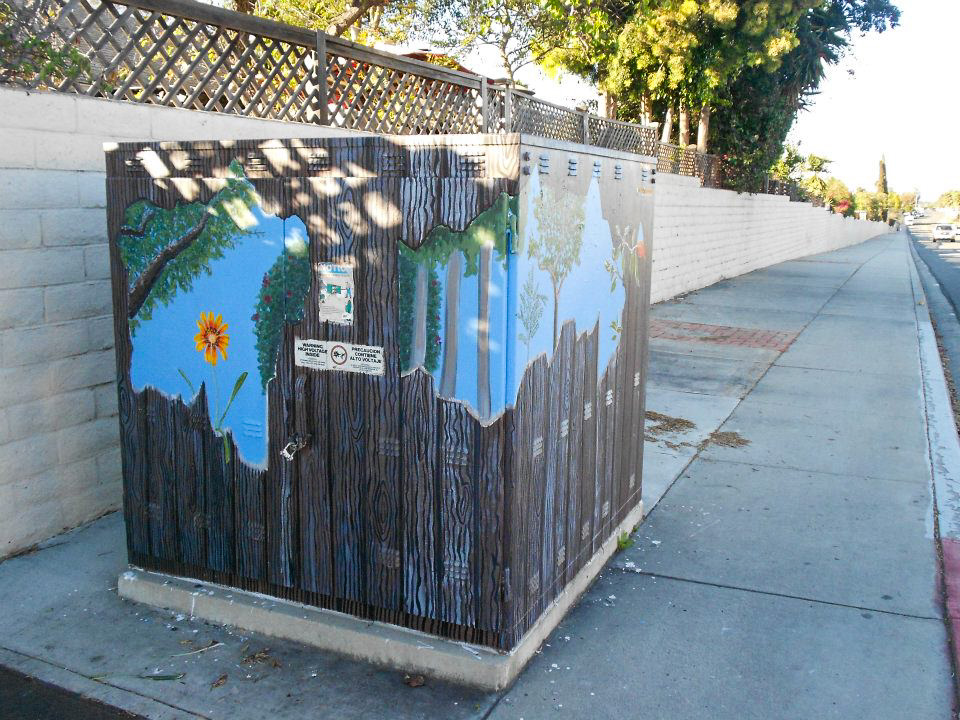 –
–
This large power box was in between three schools and I thought it would be a good idea to put an art history/educational kind of theme here.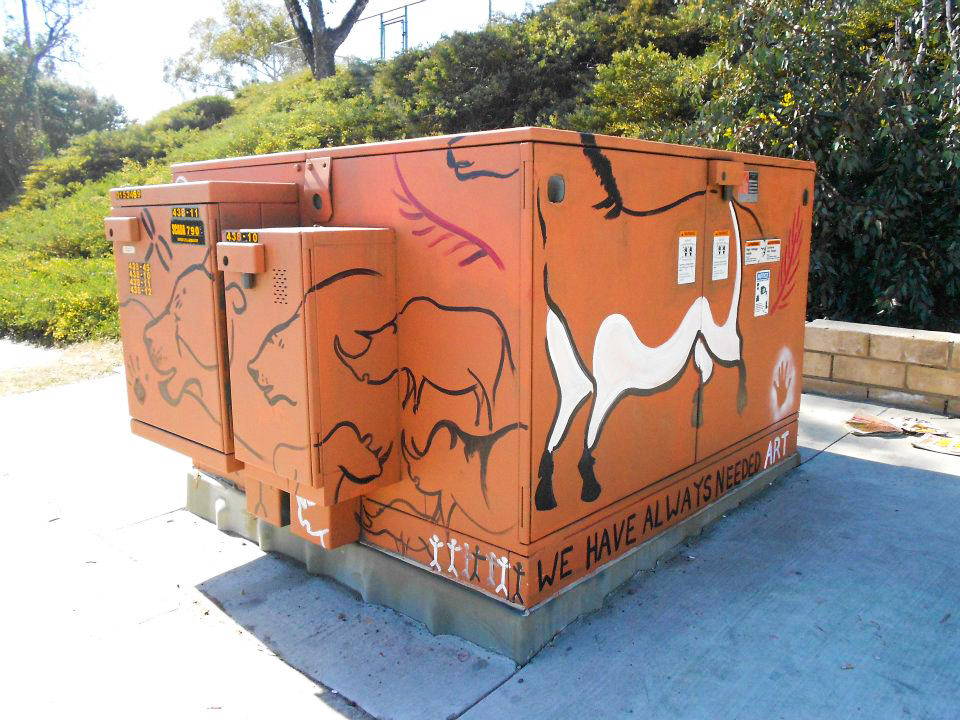 –
–
This was a fun one for the middle-school that it was in front of.  I was jazzed when I saw kids sitting and chillin in front of it the next day after I painted it.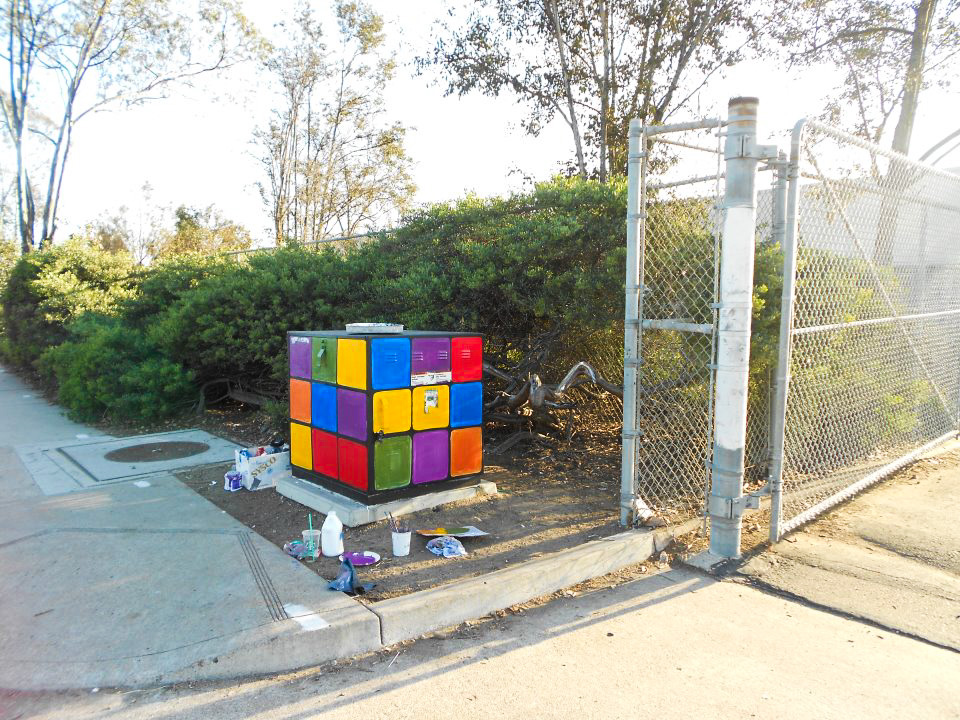 –
–
I painted this abstract one across from a Thrifty's where I used to get ice cream as a kid.  This was inspired by Neapolitan ice cream.

–
–
Two smaller electrical boxes across from each other and in between the busy Mira Mesa blvd.  I wanted to make a homely subtle romantic feel with these because sometimes art needs a flair of drama.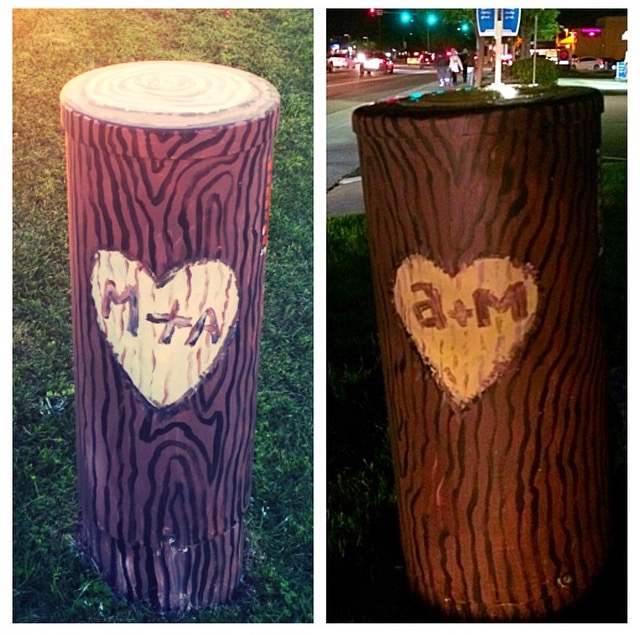 –
–
This was done with the help of my friend Aaron Thom and it's in front of a seafood market.   The image was of Thailand where his dad is currently living now.  Sorry for the blurry flip phone picture lol..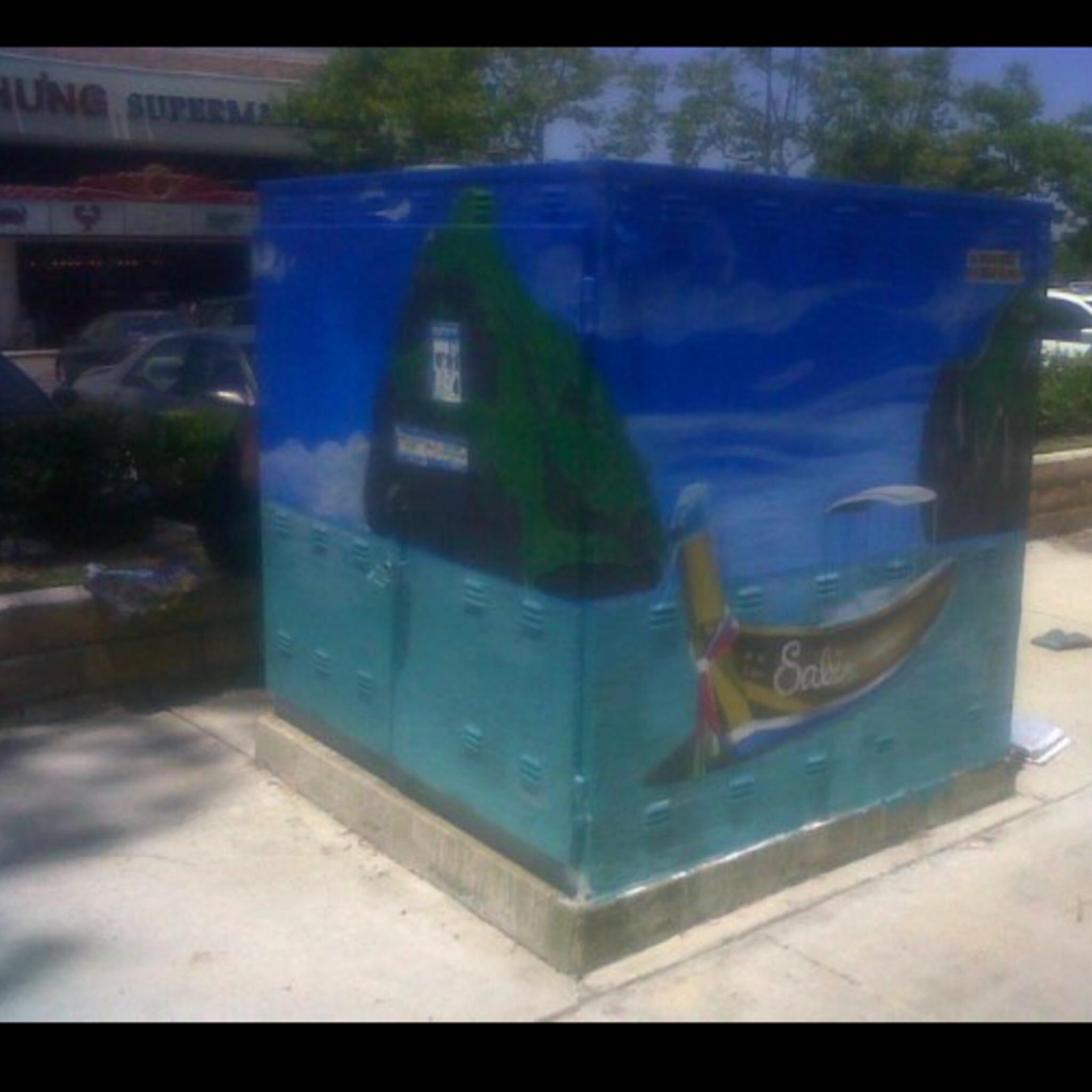 –
–
This fish tank I painted is right next to the box above.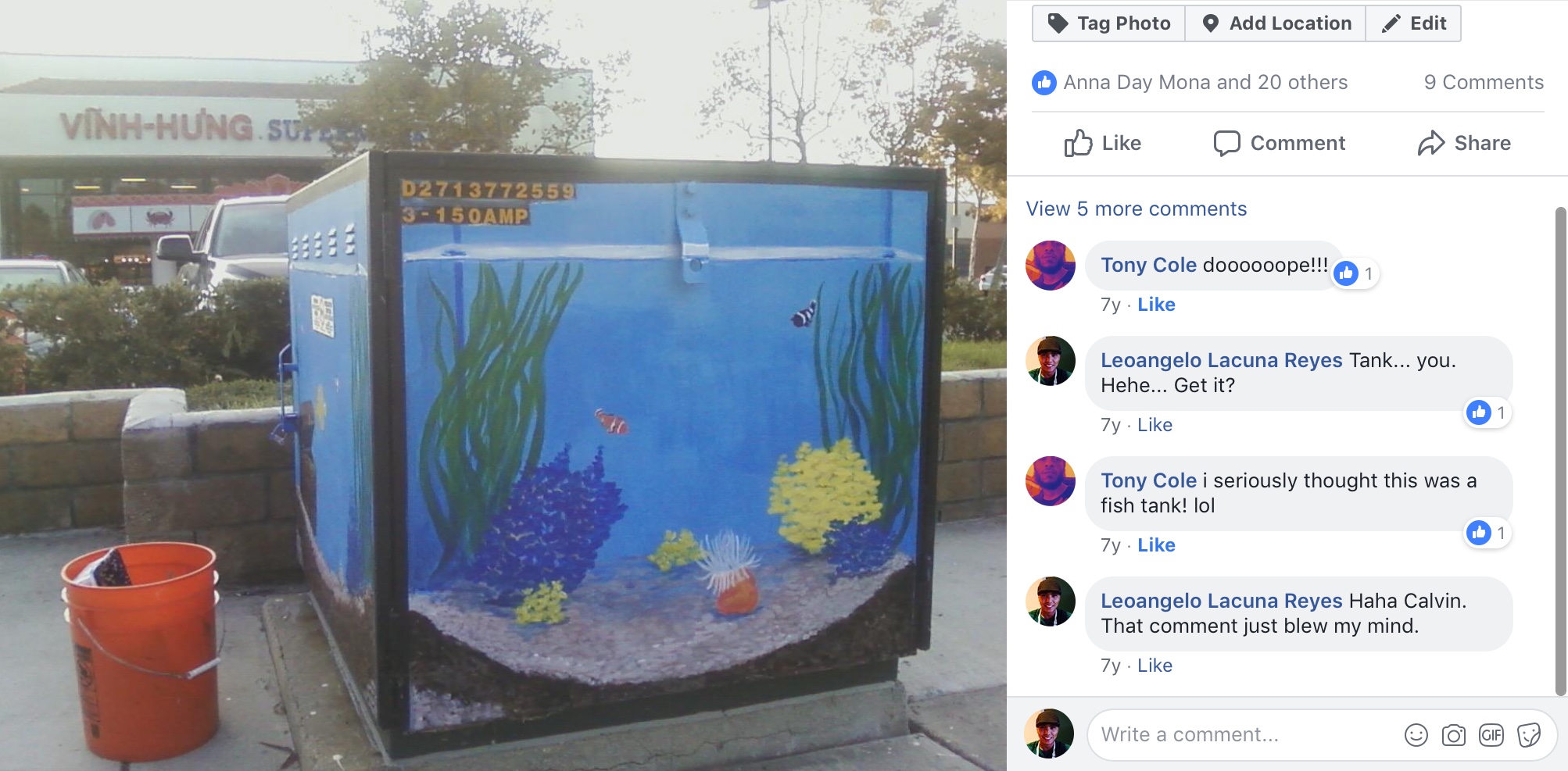 –
–
This was done on and for fourth of July at the park.  Some kind elderly lady brought me some food and we chatted for a little, it was nice.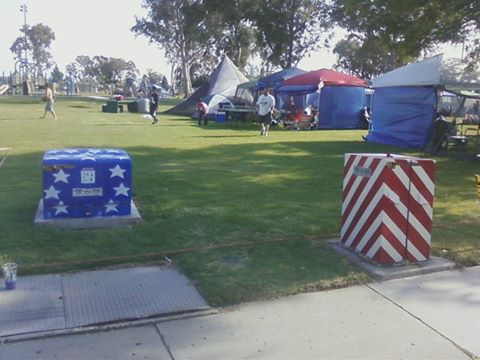 –
–
I made this fireplace closer to the residential  areas on Black Mt and Gemini.  Saw a lot of old friends in their cars honking and saying hi, I guess this road gets pretty busy.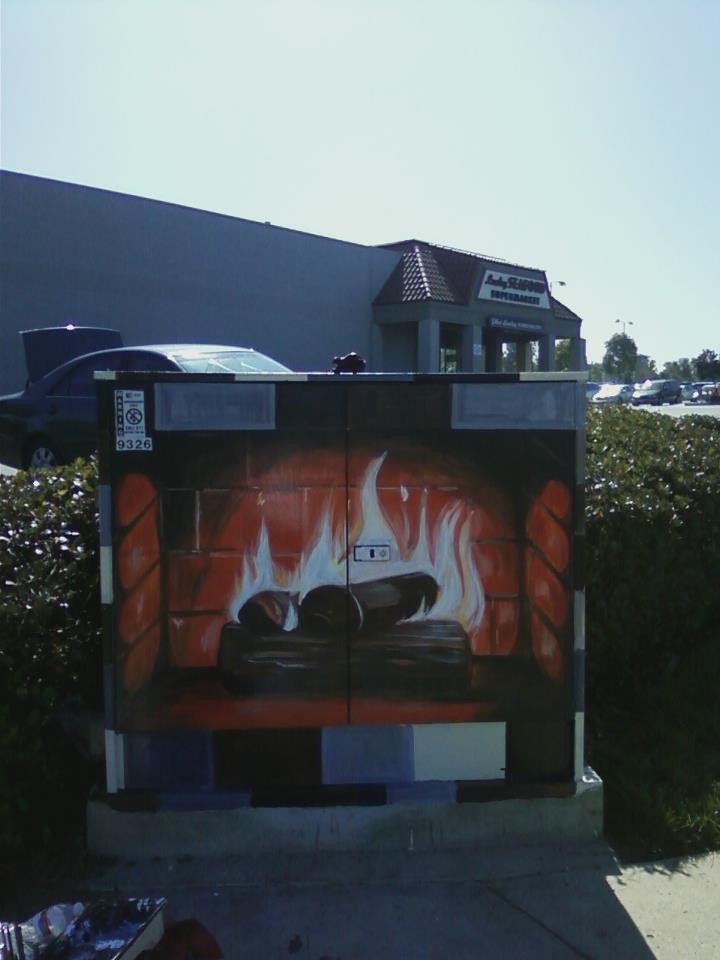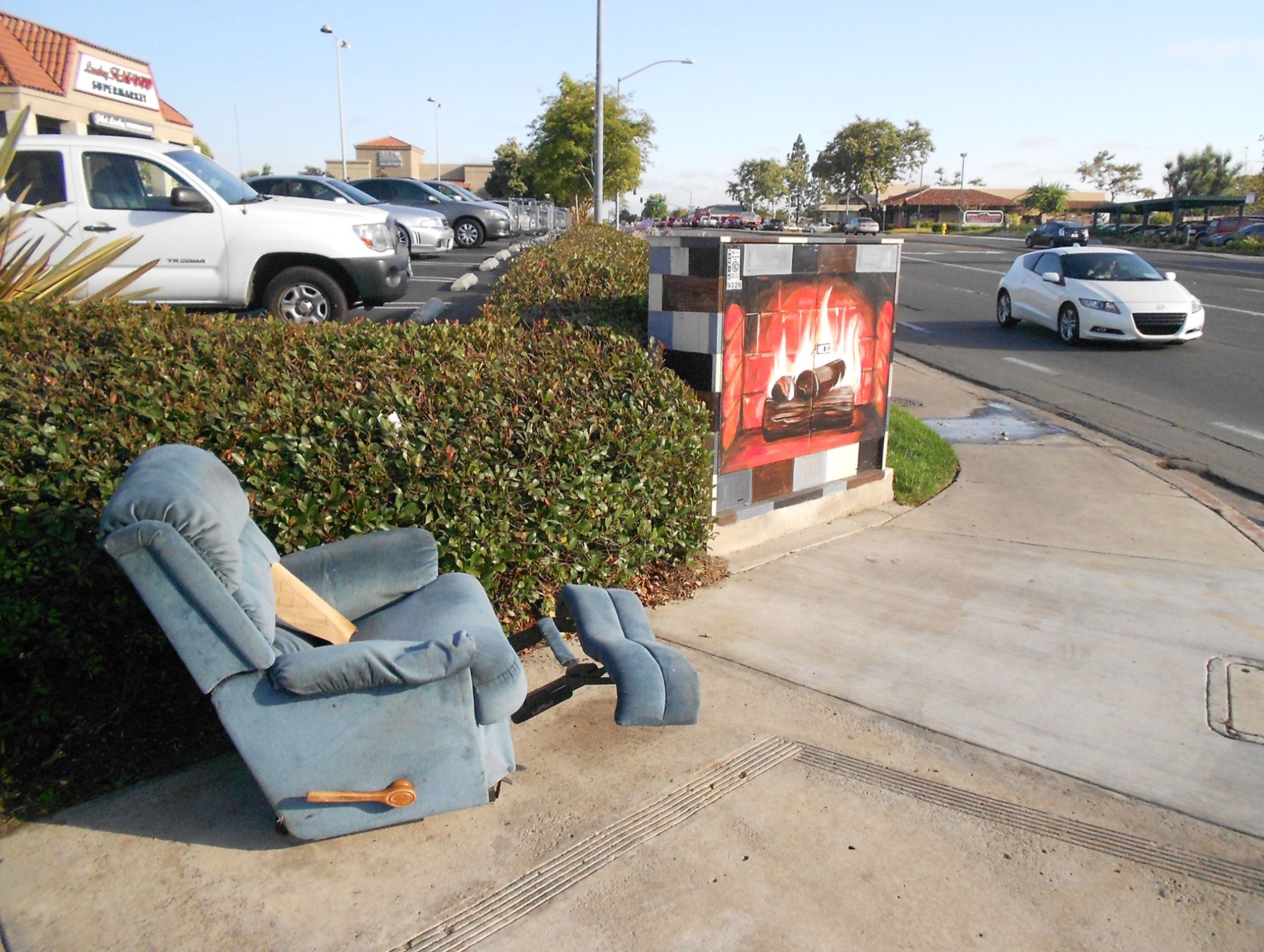 –
–
This one was up briefly on MM blvd and was painted over.  I still felt like a cool guy because I finished this in one go in the hot sun.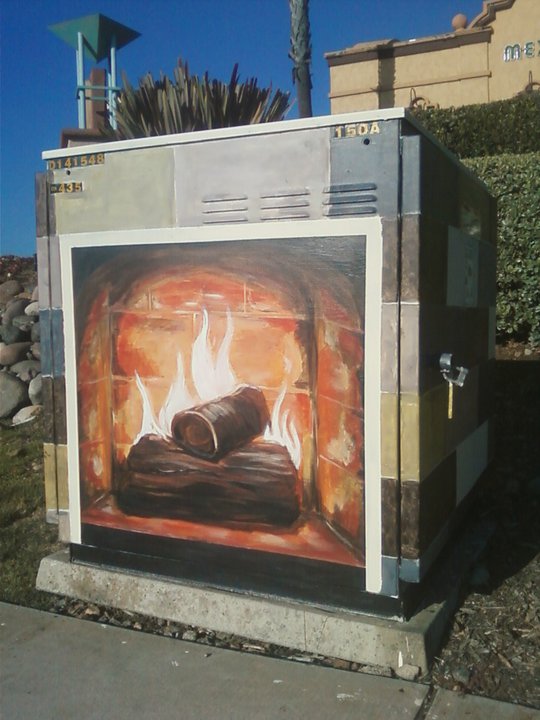 –
–
Helped the Parks and Rec get this box to recede a little when they made this new park by the freeway.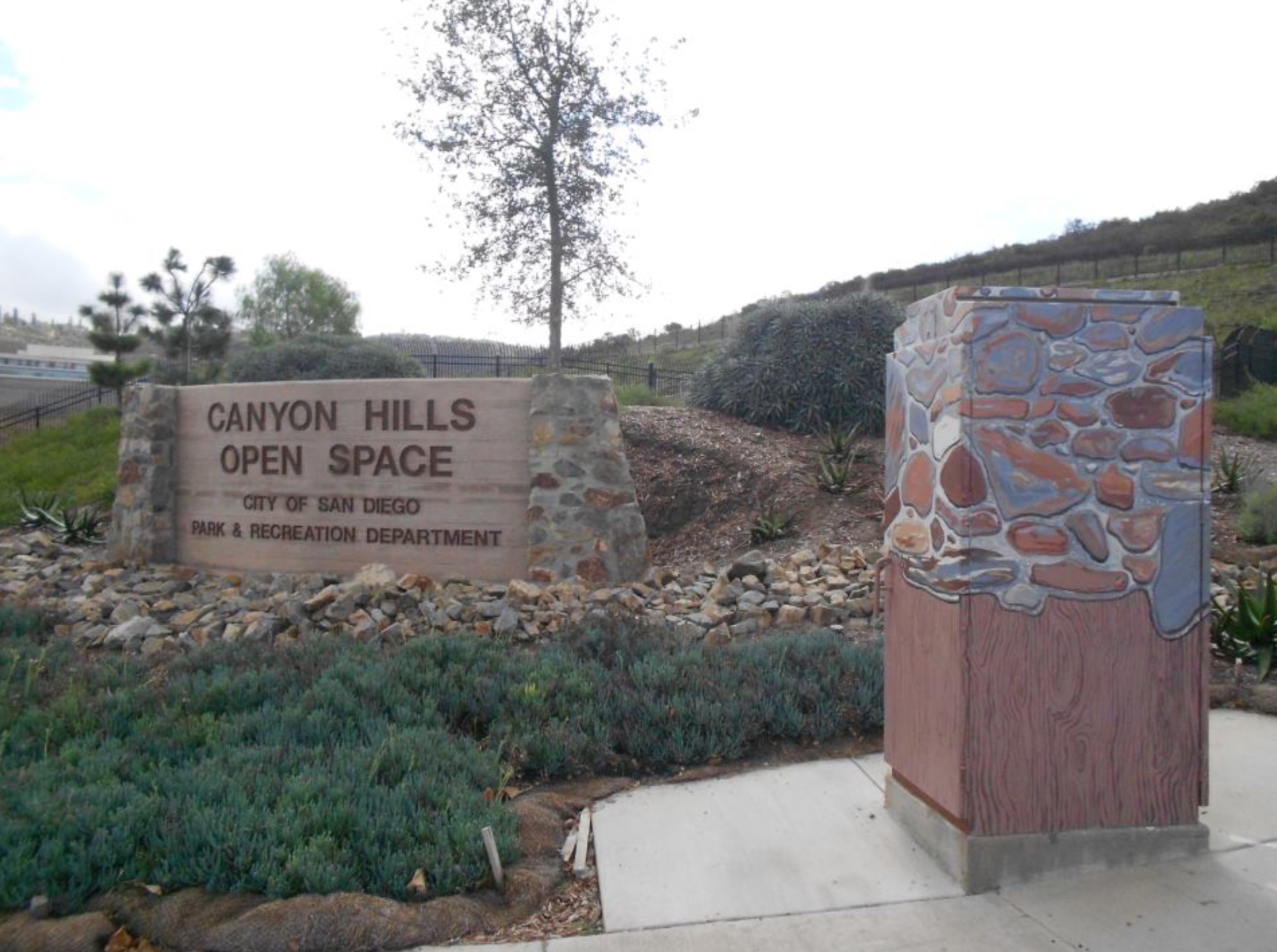 –
–
I recently made this one inspired by Rene Magritte.  I wanted a silly thing with a positive message and I enjoy site specific art.  Timelapse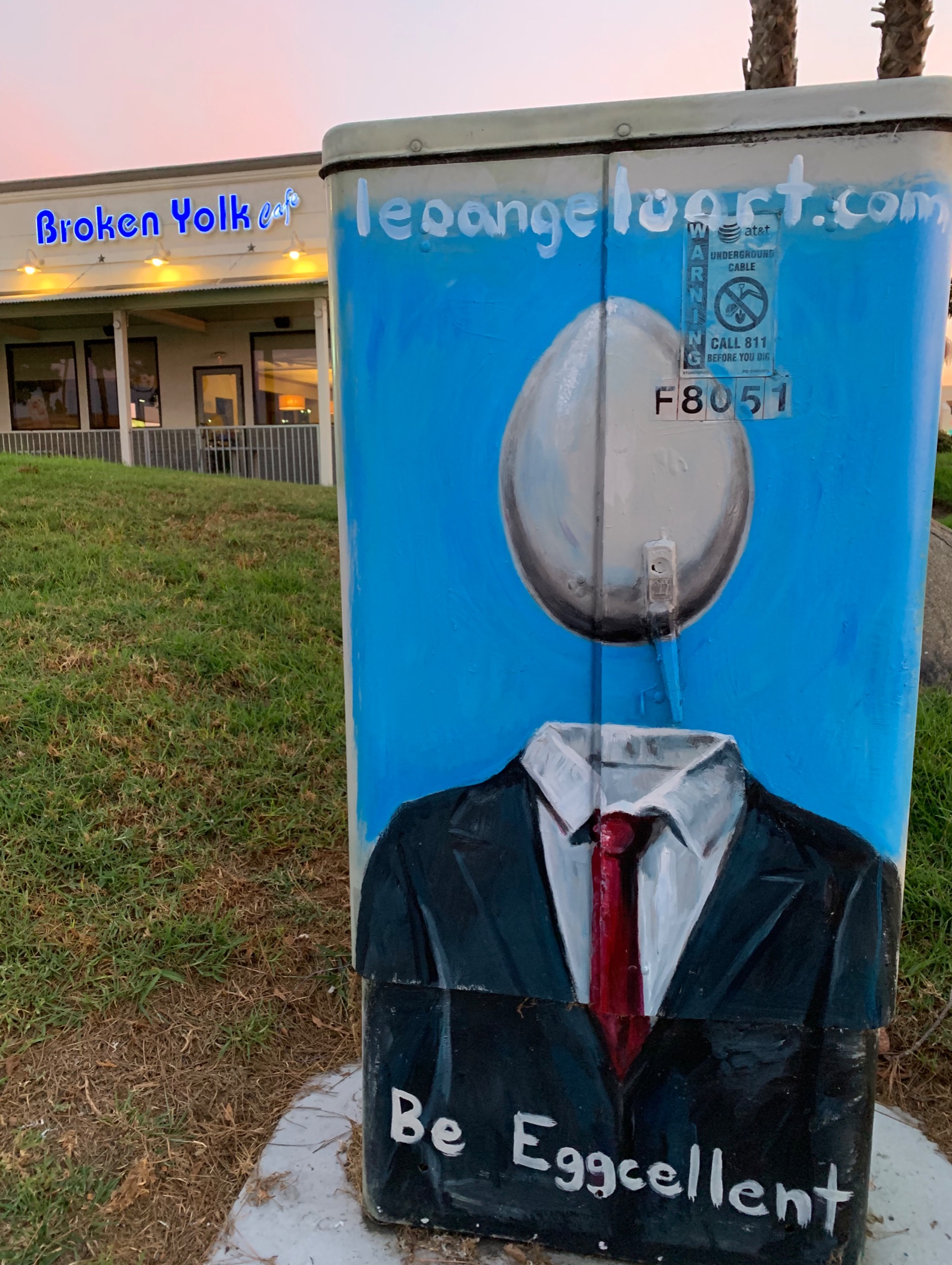 –
–
This is an electrical box that I painted for the kids at Hage elementary and the Ice Arena nearby.  Progress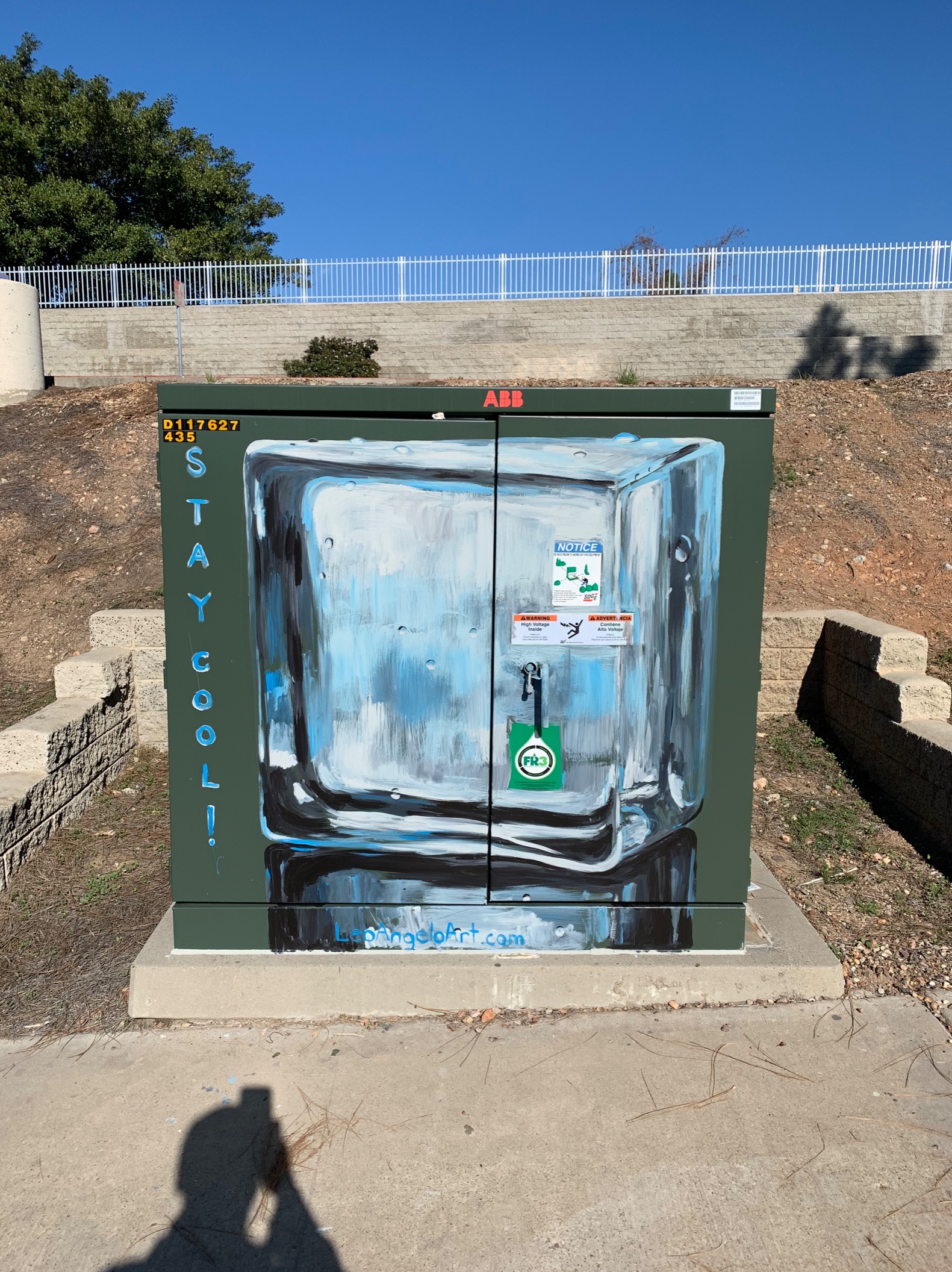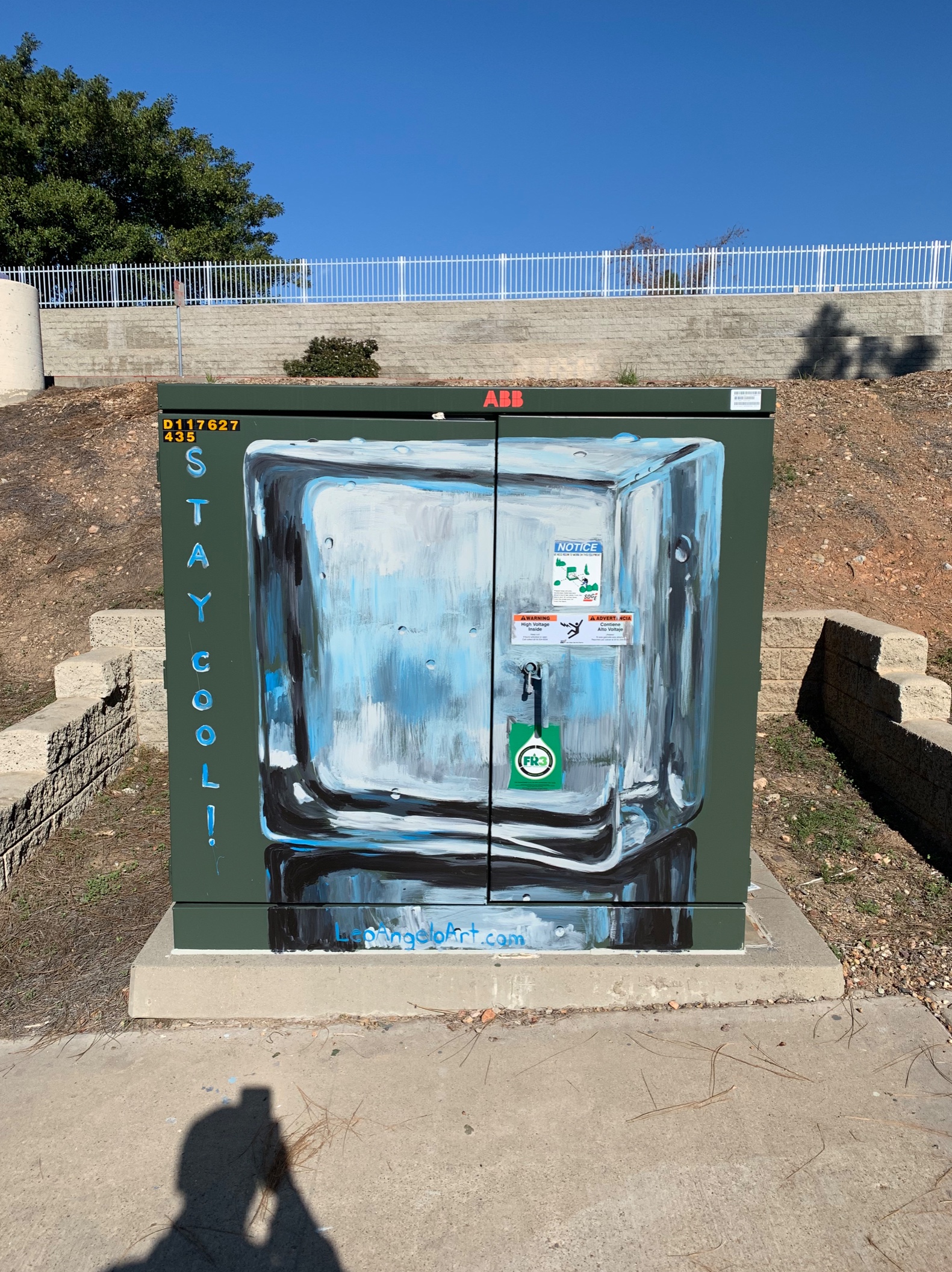 –
–
I made this aquarium for a neighbor deeper in the Mira Mesa neighborhood.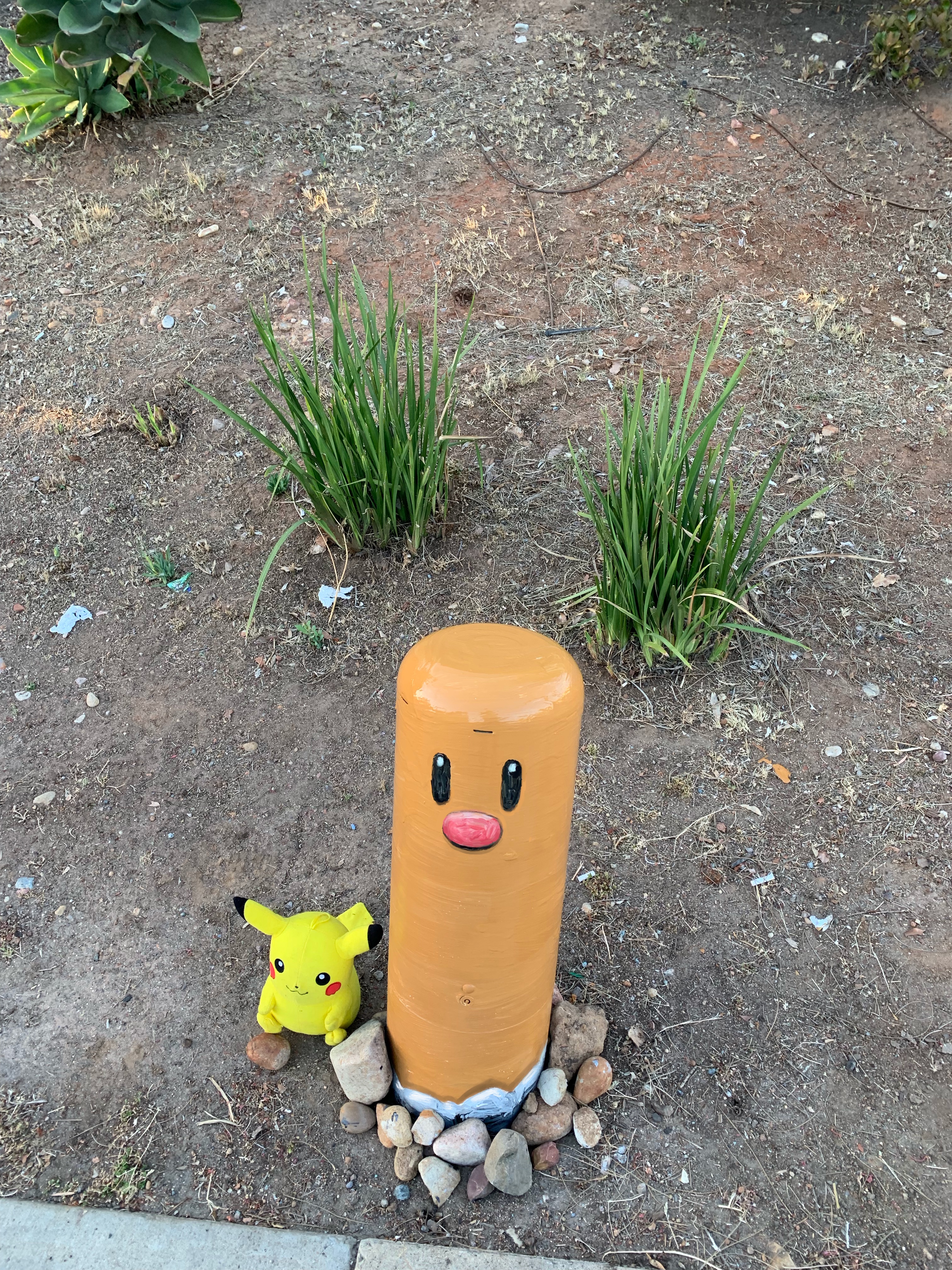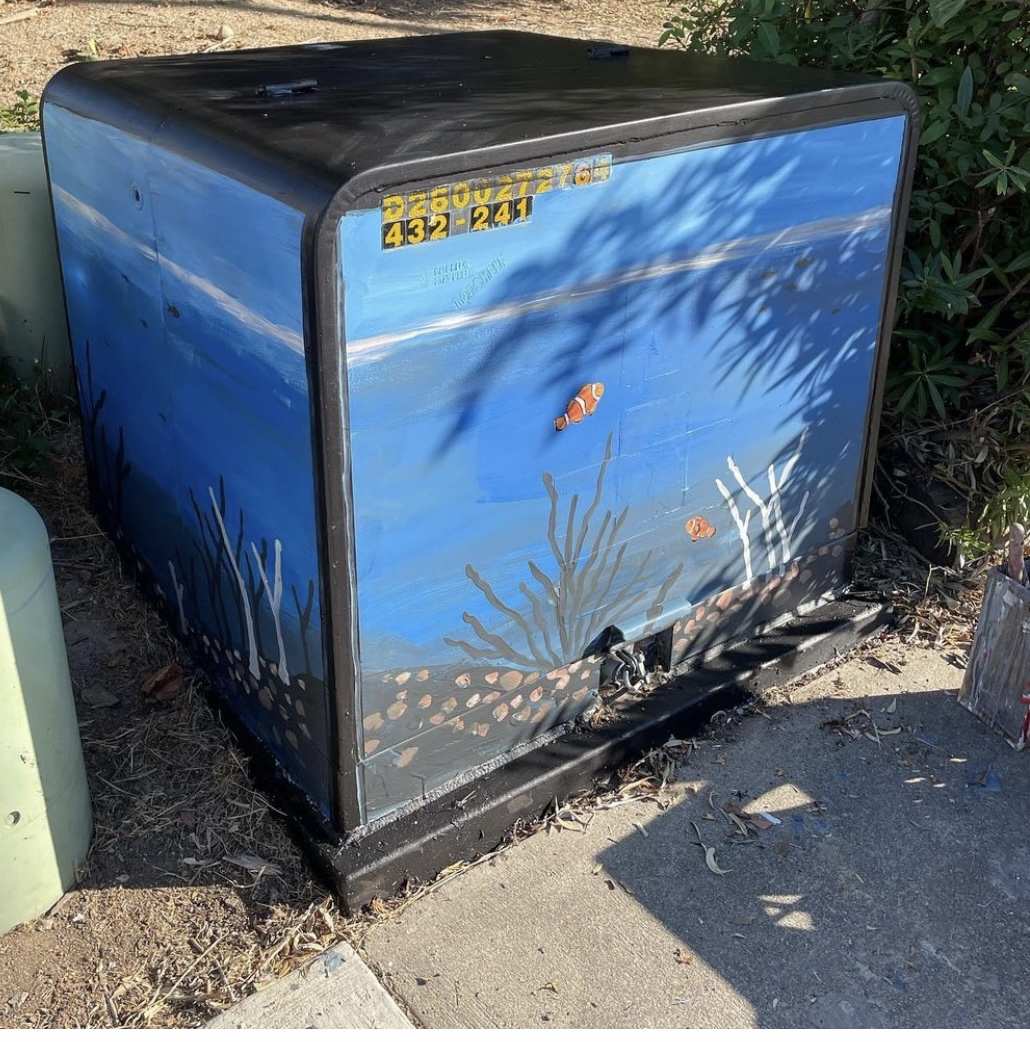 –
–
MLK on Mira Mesa Blvd and Greenford.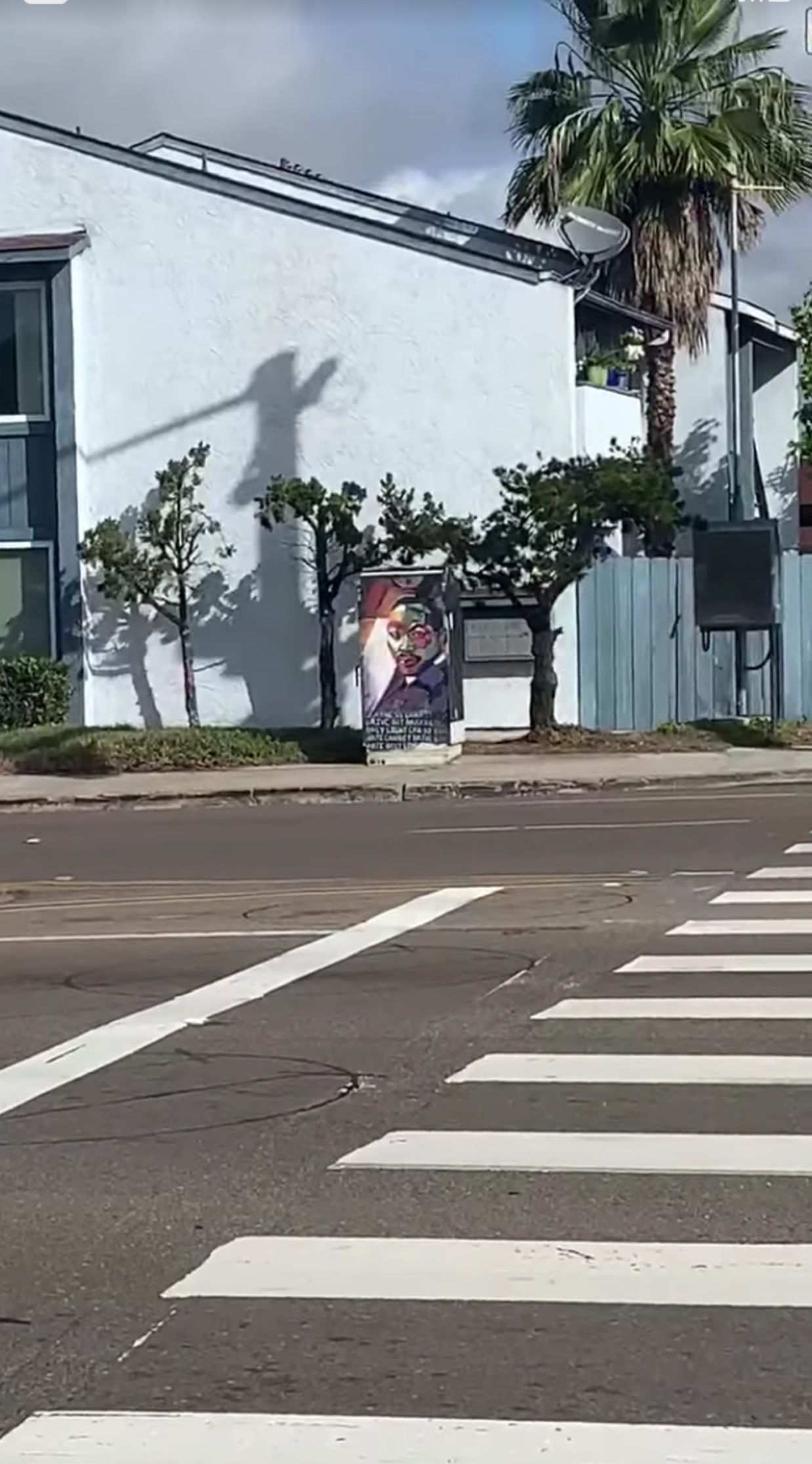 There are many other contributions that were from other artists that I was happy to direct.  I think having different artists and a mixture of styles added a vibrancy in the public scene of Mira Mesa that was never there before.
–
–
–
Miramar 4th
–
–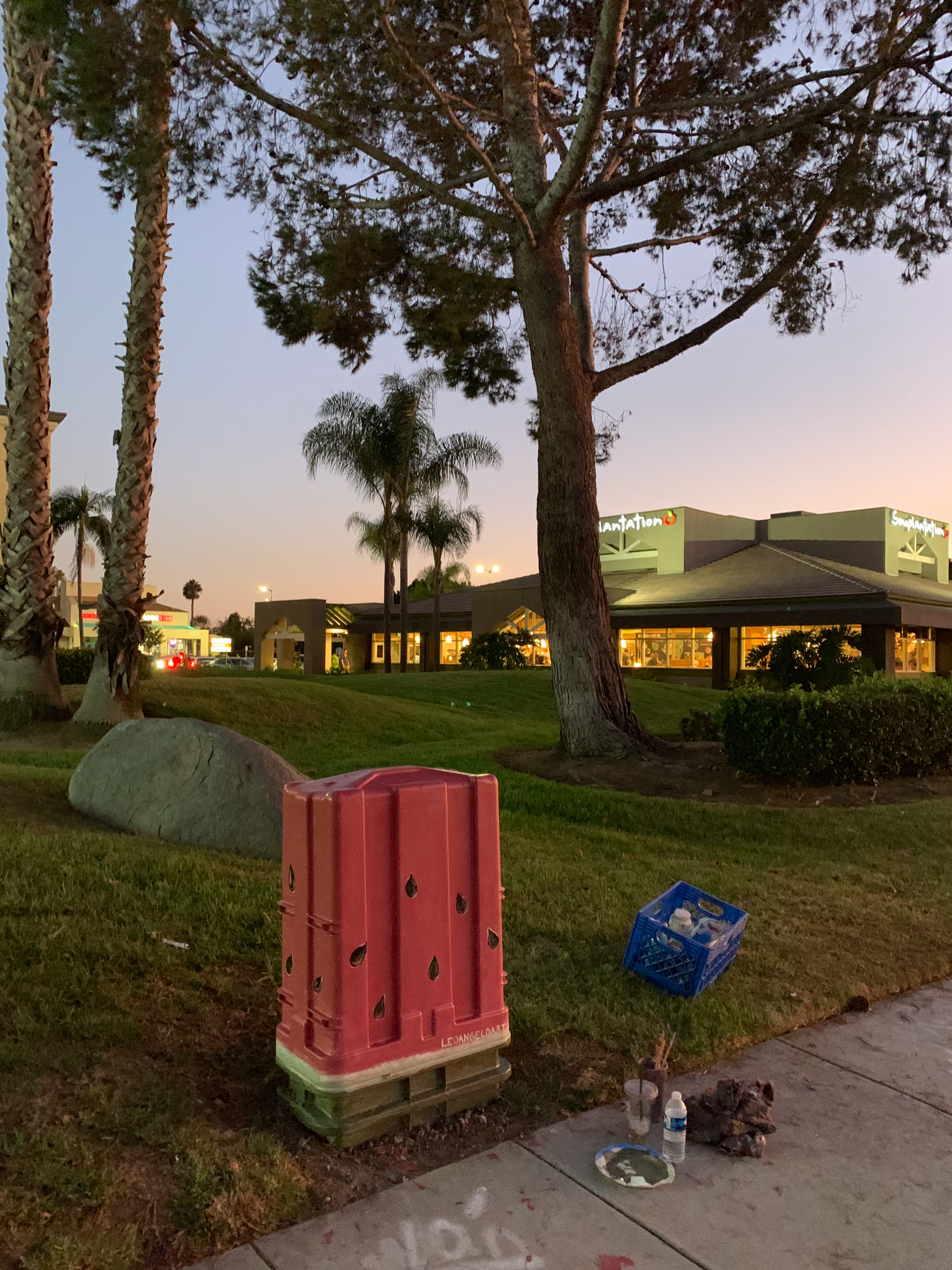 –
–
Sandburg's Butterfly Garden
–
–
Colorful boxes by Viking Park for the children.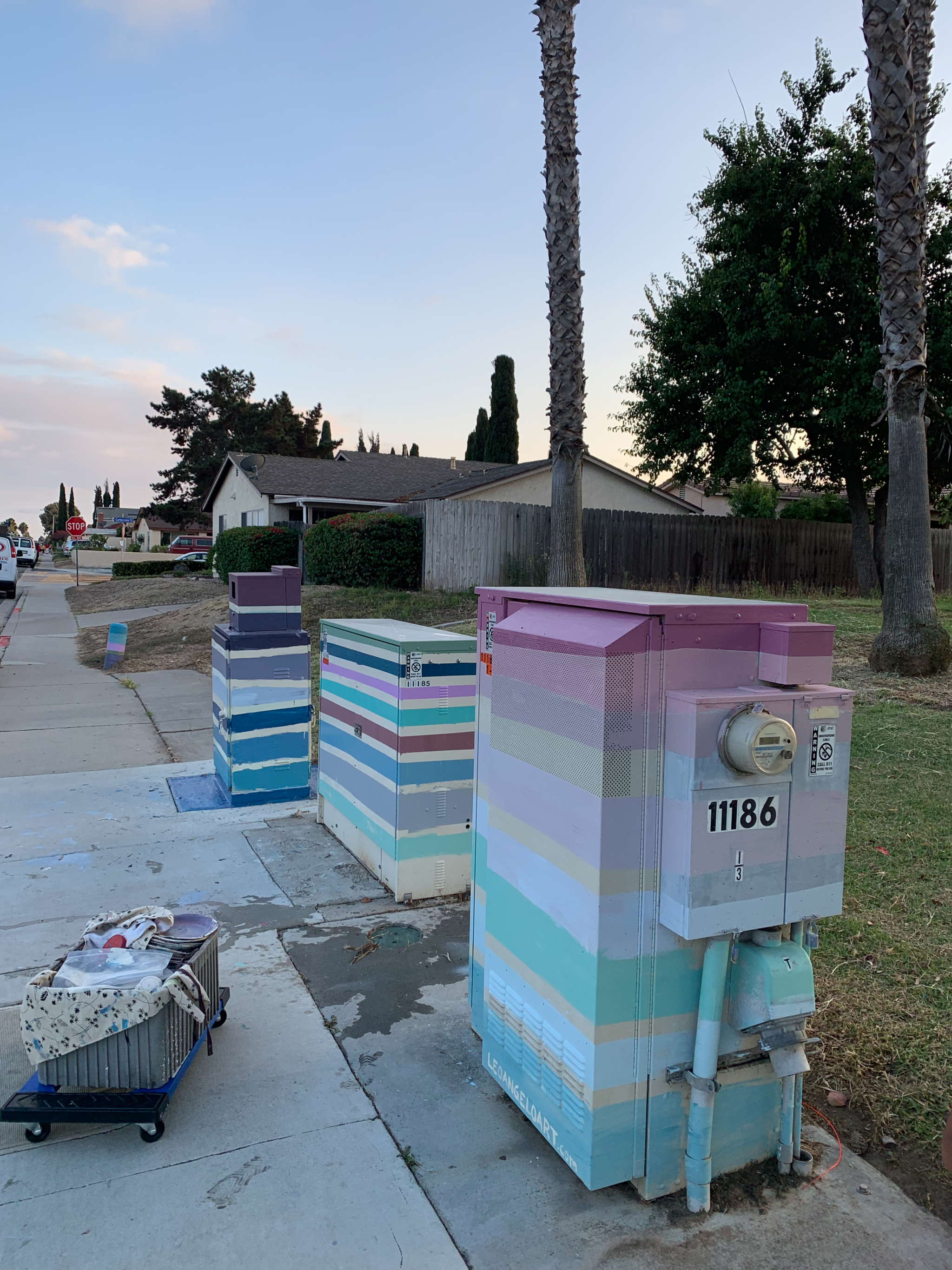 –
–
Chalk The Walk – Pond
–
–
Avocado on Camino Ruiz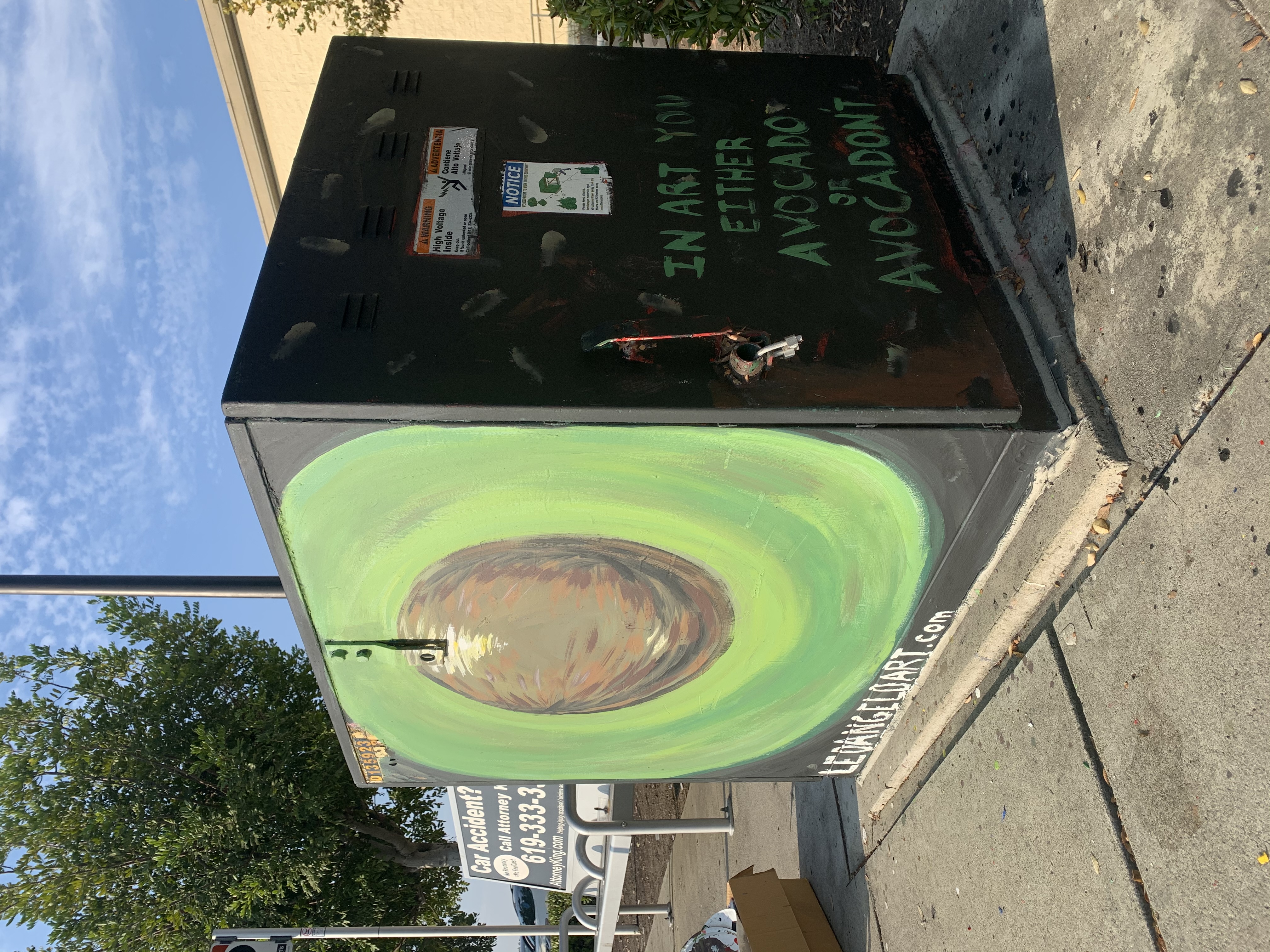 –
–
Thank You Essential Workers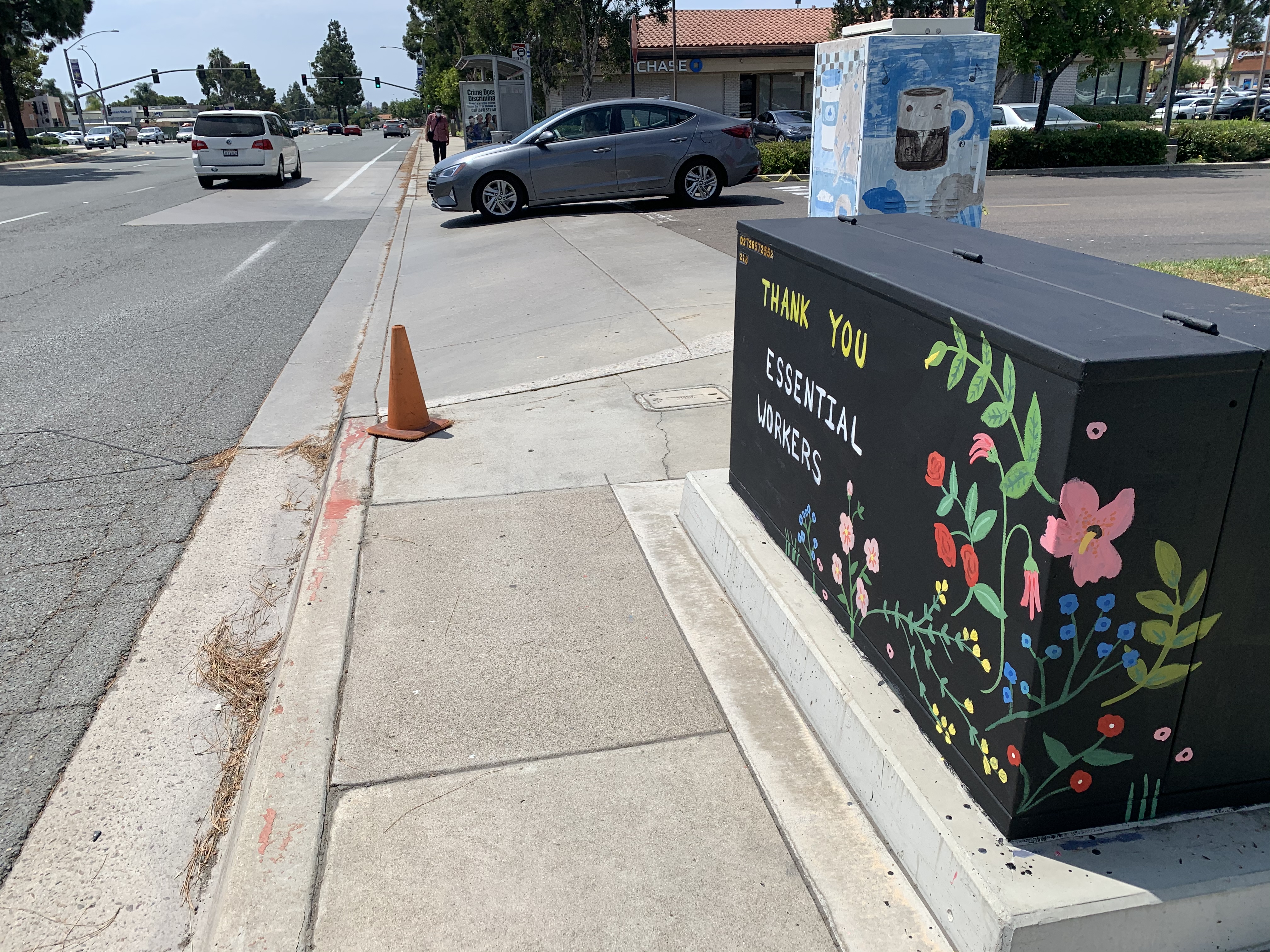 –
–
Hickman Hearts – This isn't on an electrical box it's at my school that I teach art at.  Each heart tile is unique and was painted by an awesome student of mine from Hickman.  Tk-5th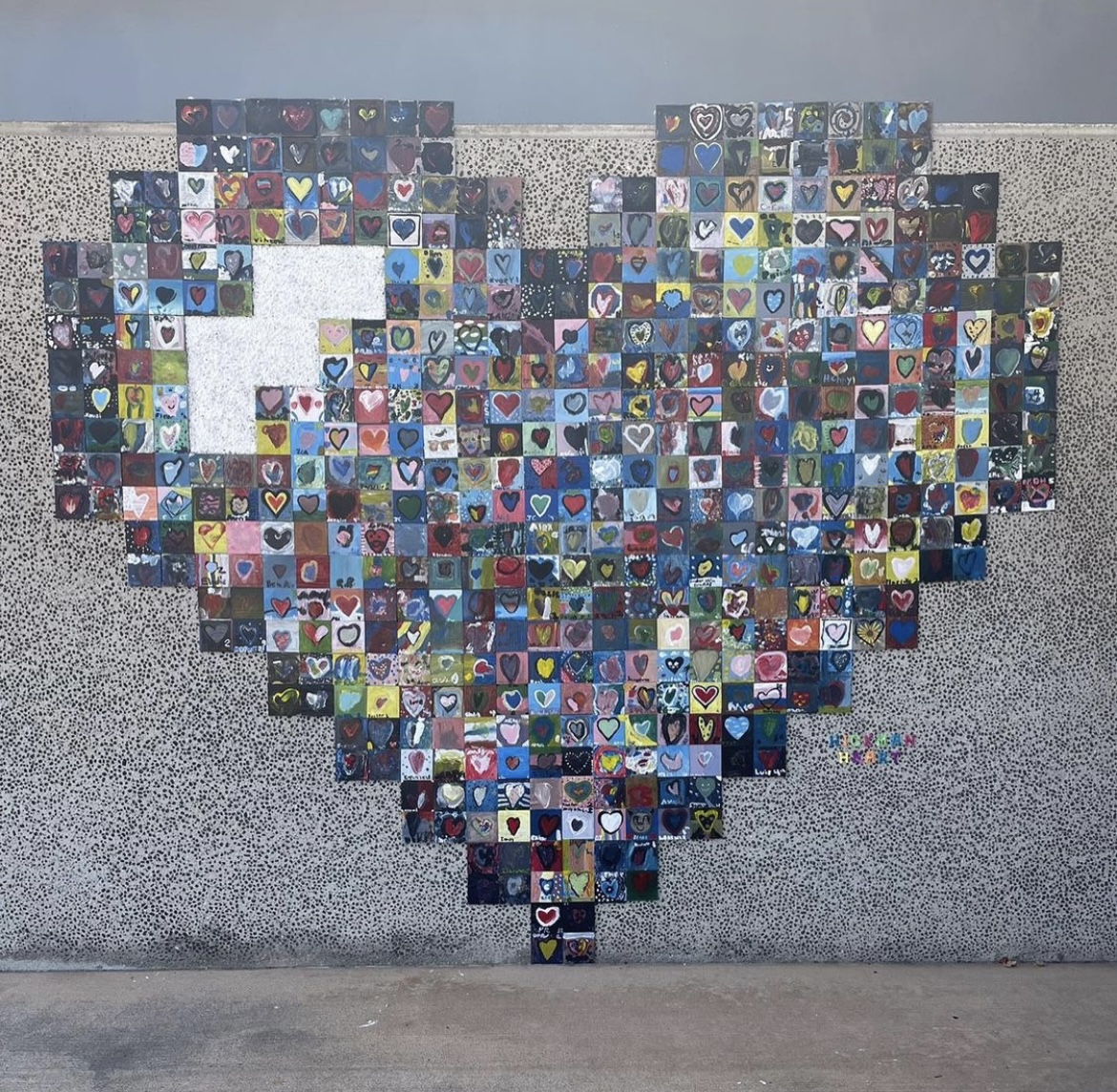 –
–
Let's Rise Together – Positive message left on Black Mountain rd.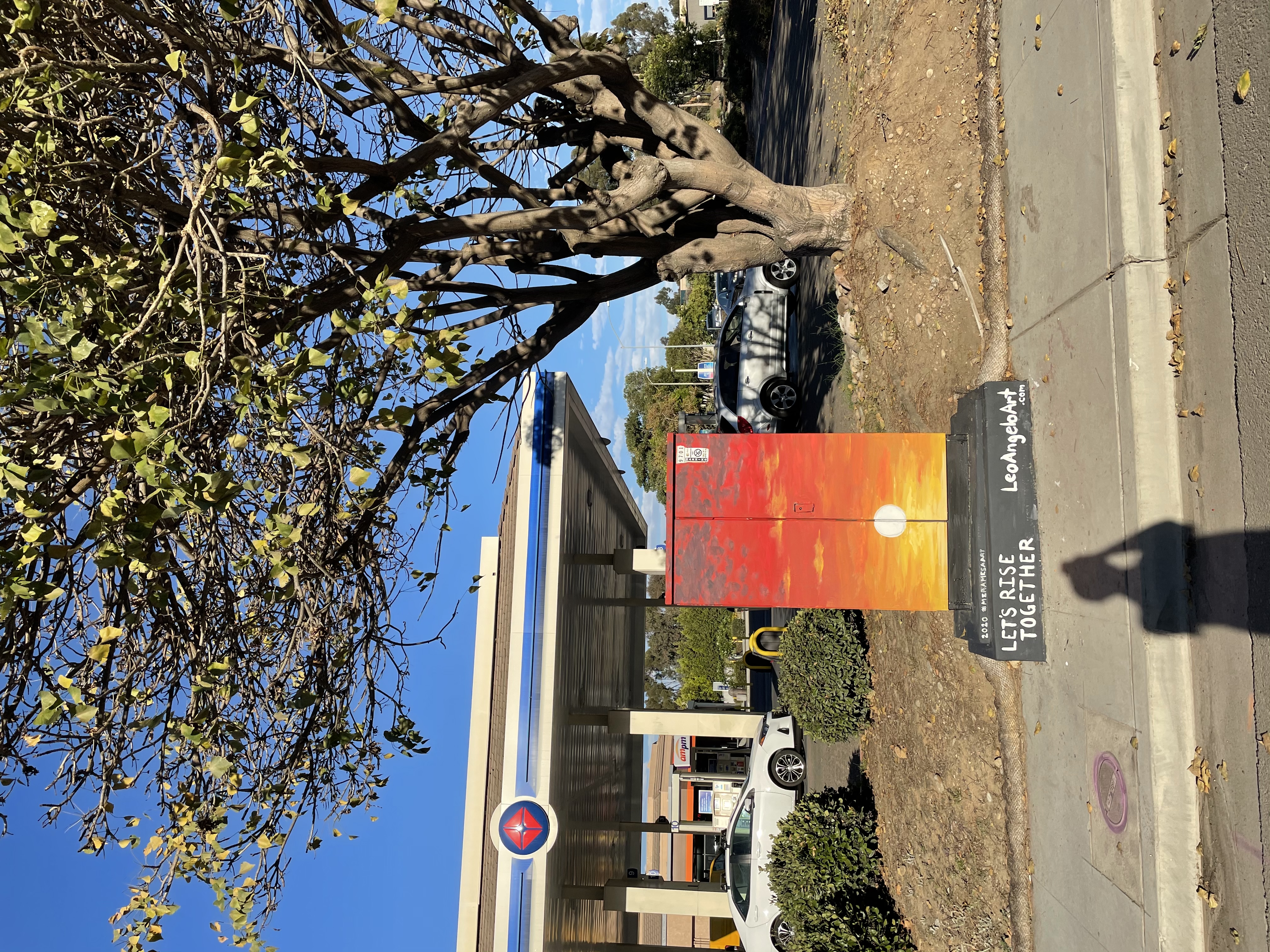 –
–
Hickman Wings, all of my fifth graders painted a feather and put their name in it.
—
–
Water Tiger at Sandburg Park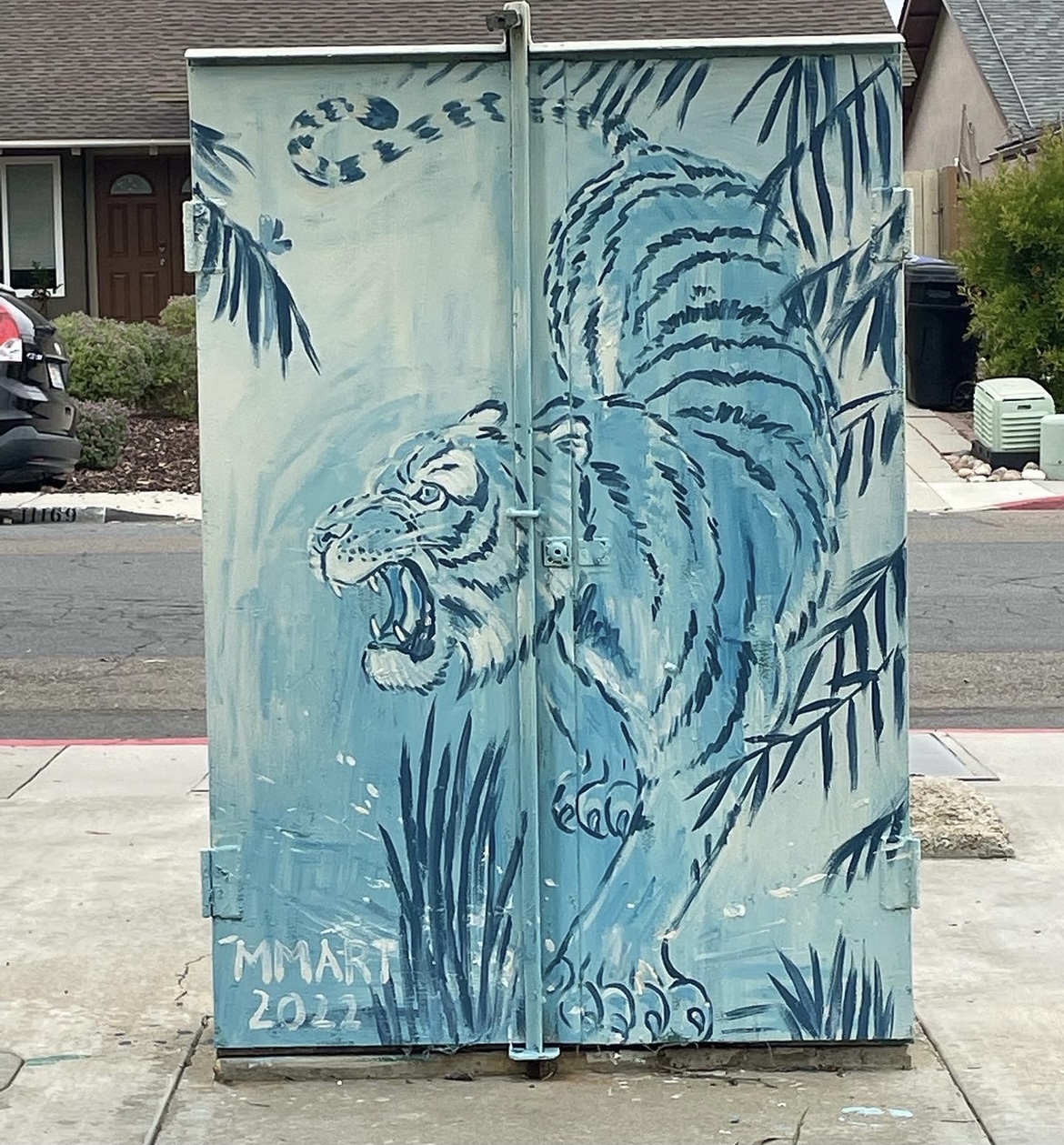 –
–
Goldfish – A painterly fish for MM blvd.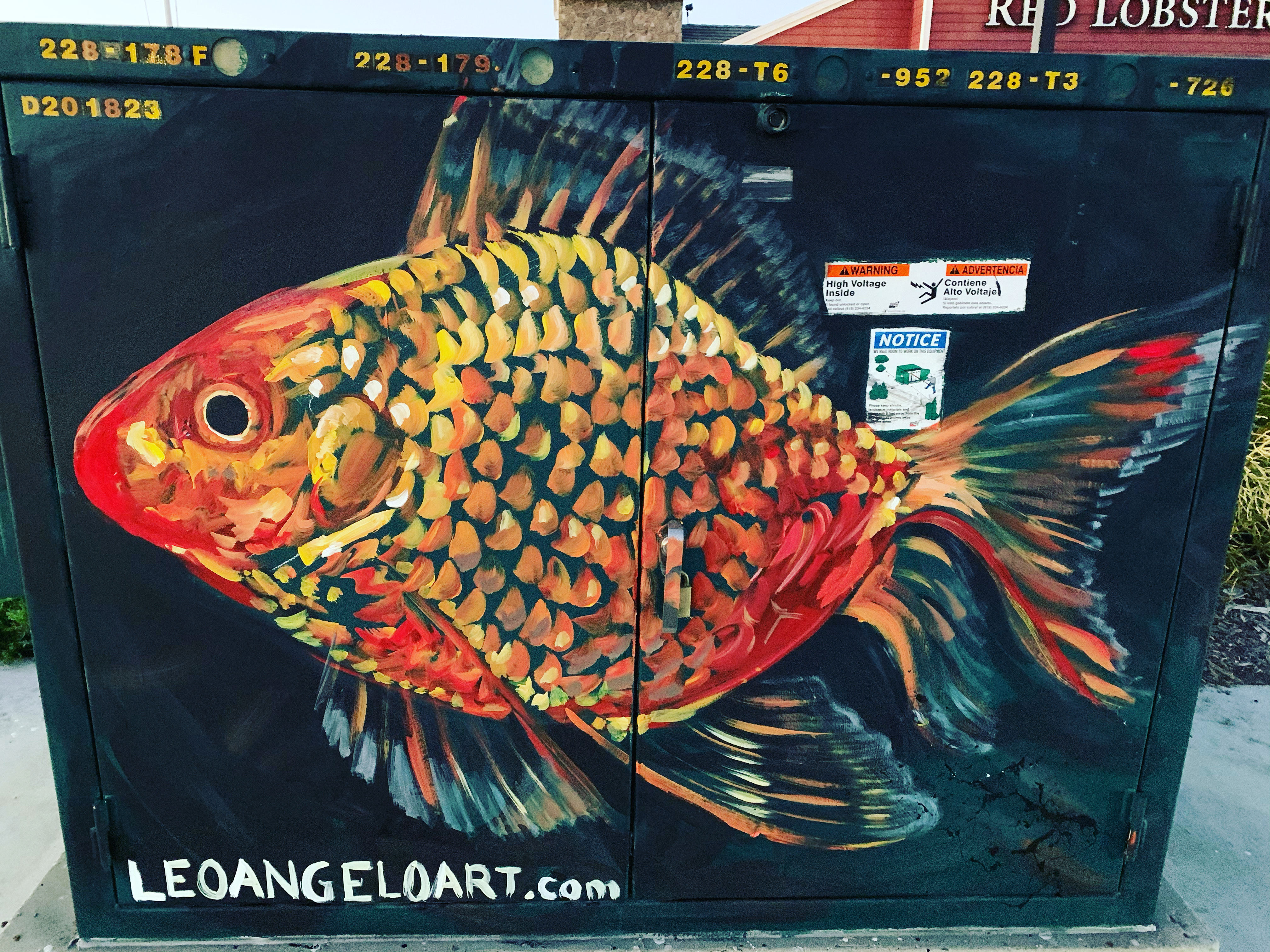 –
–
Blue butterfly on MM blvd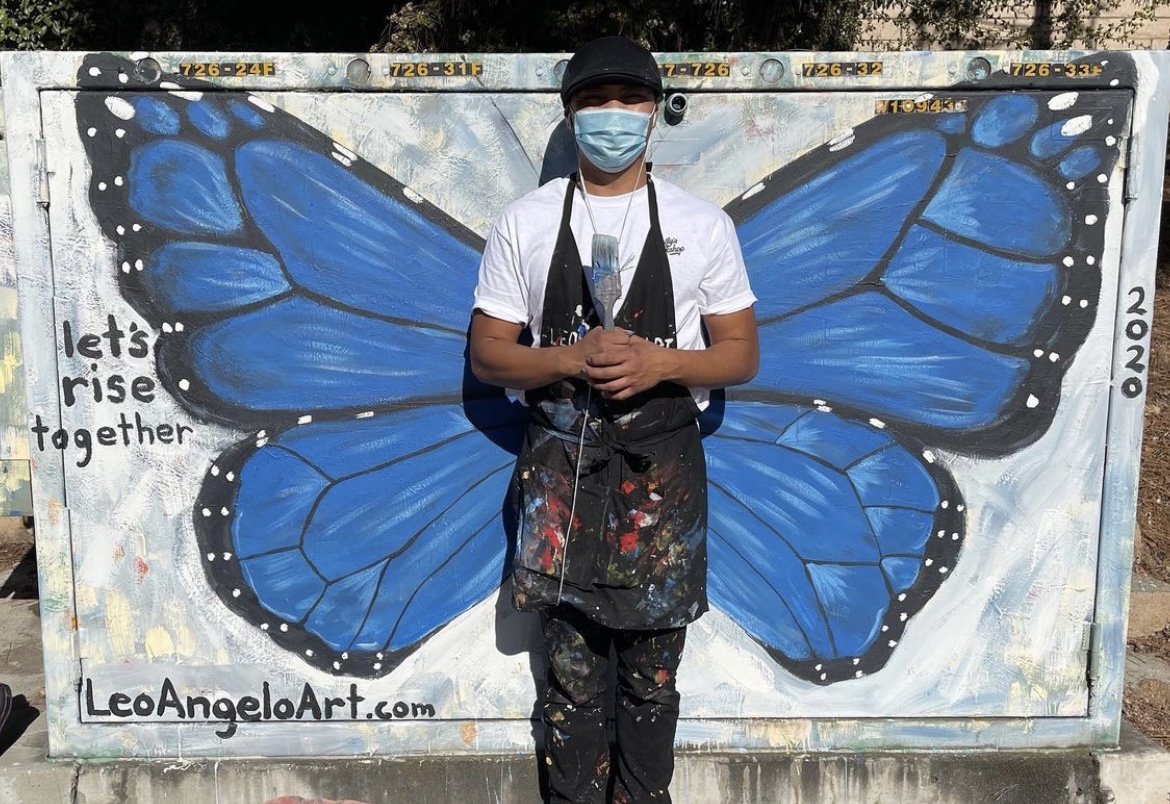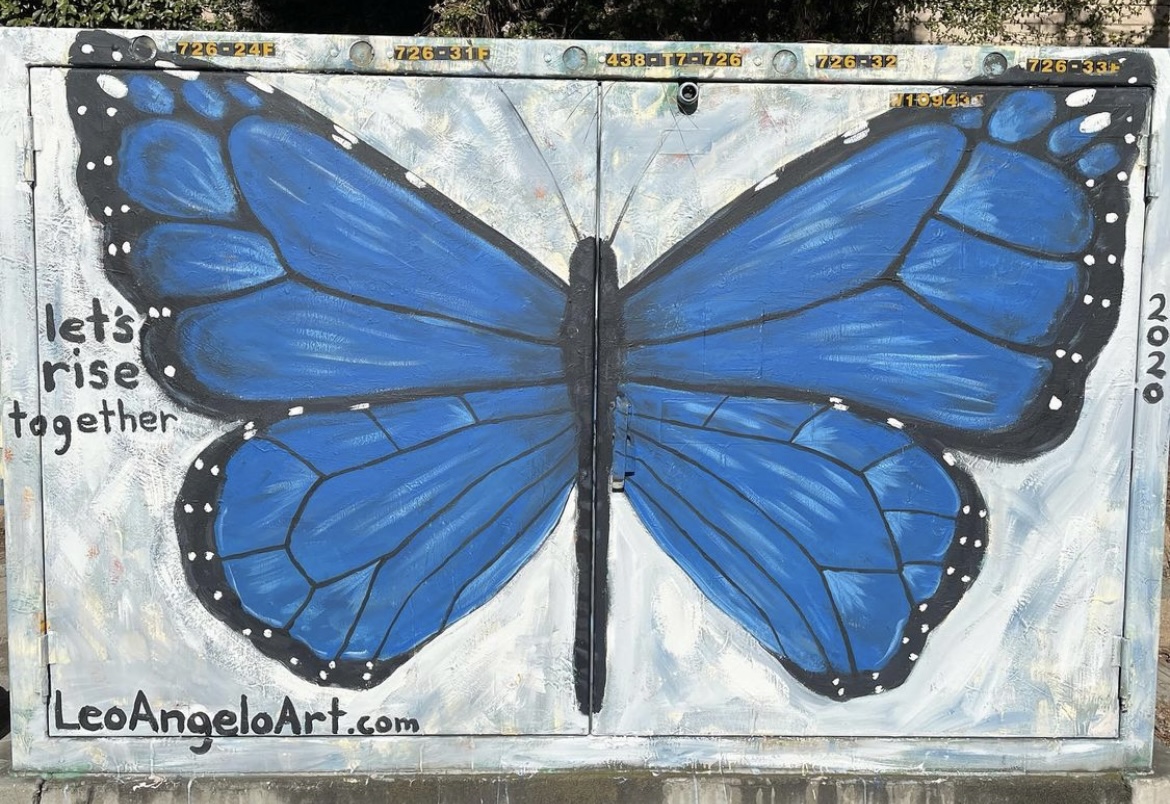 –
–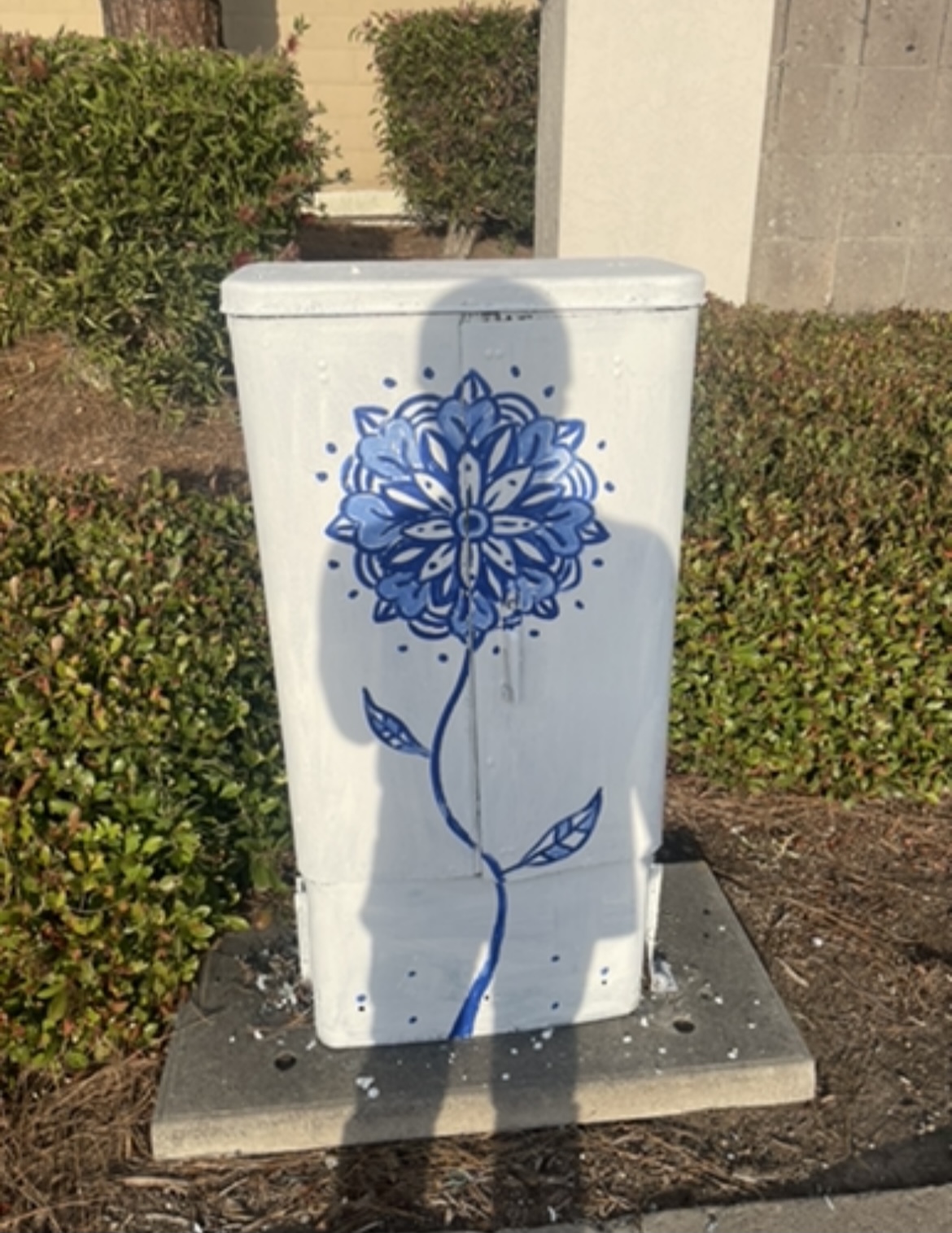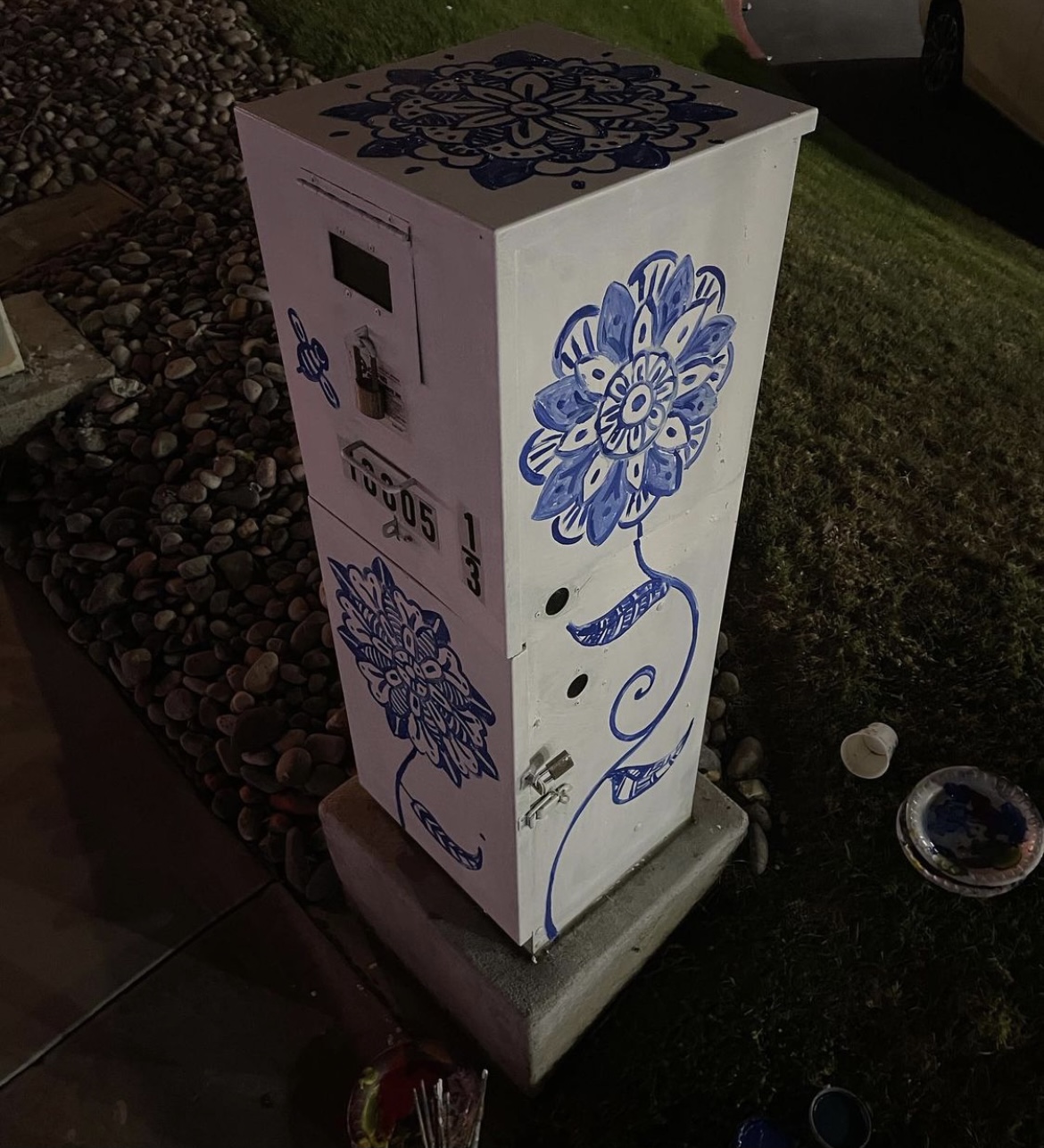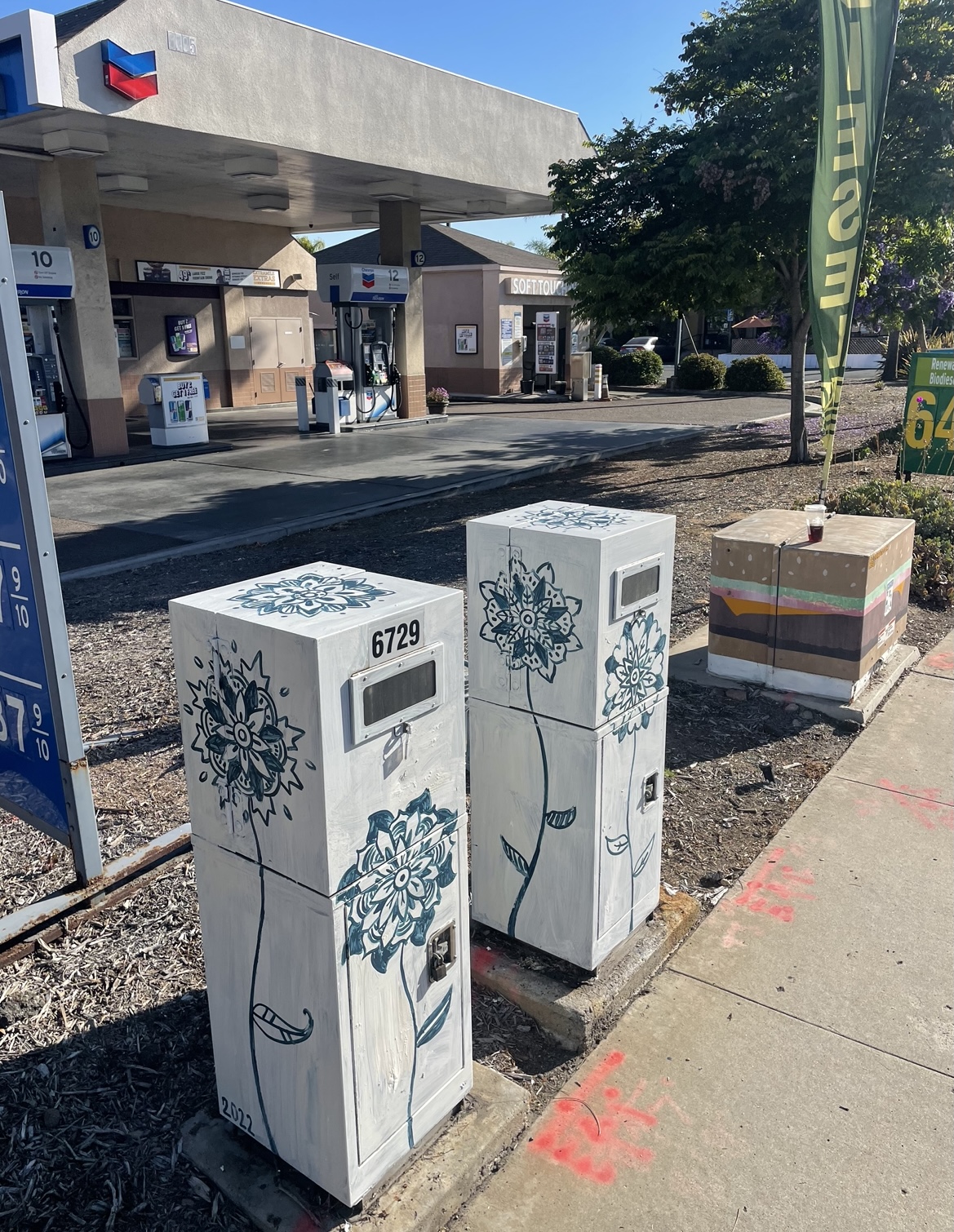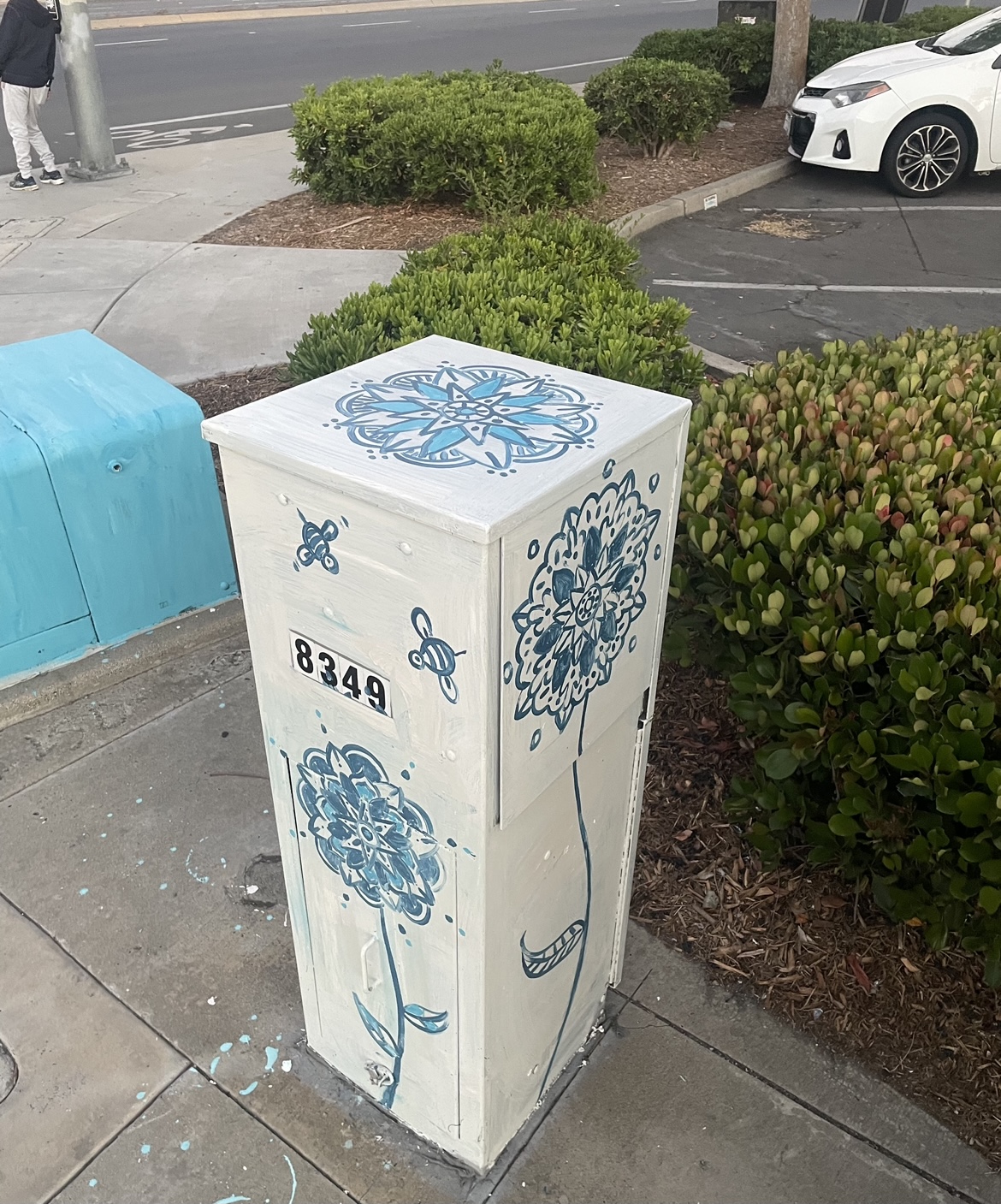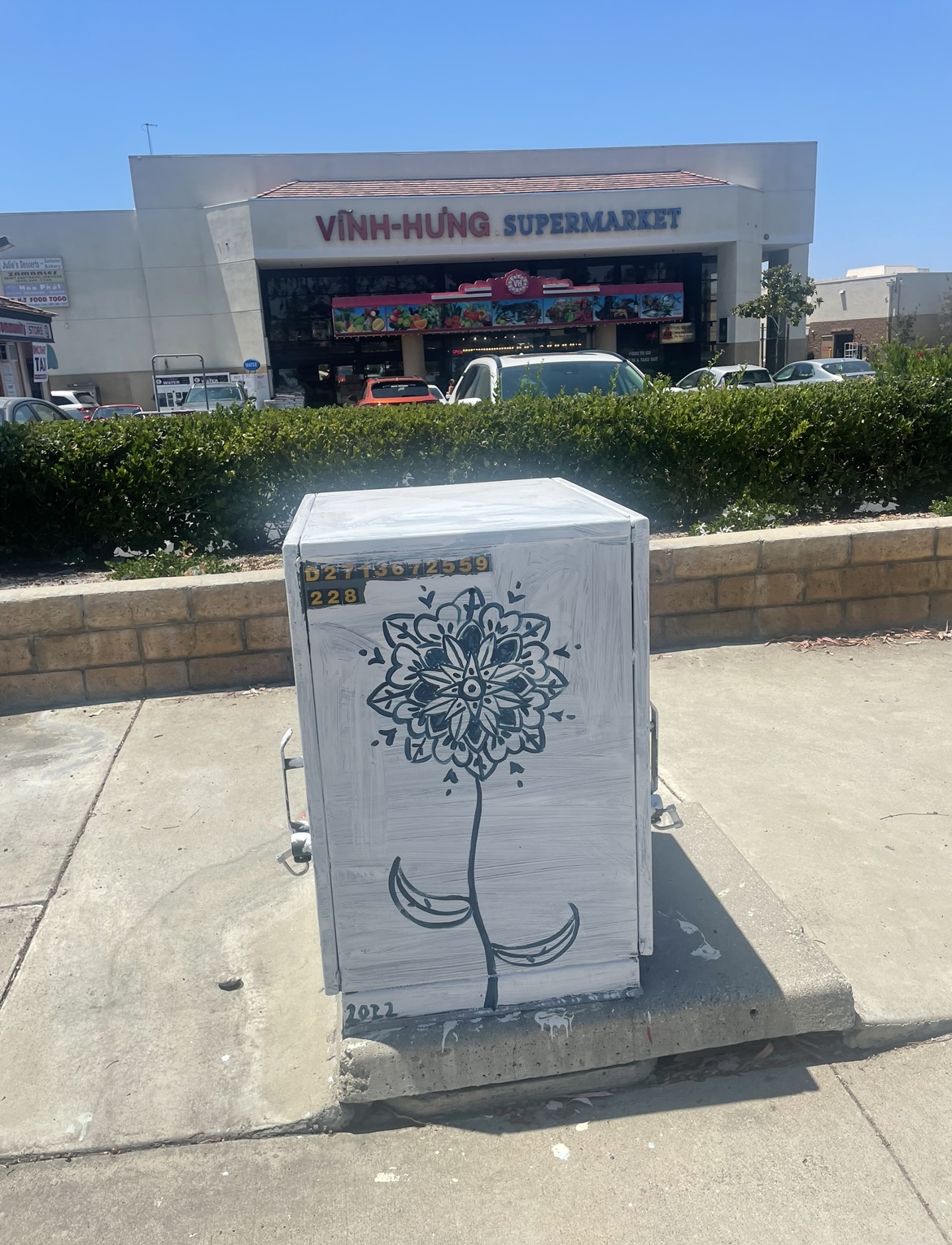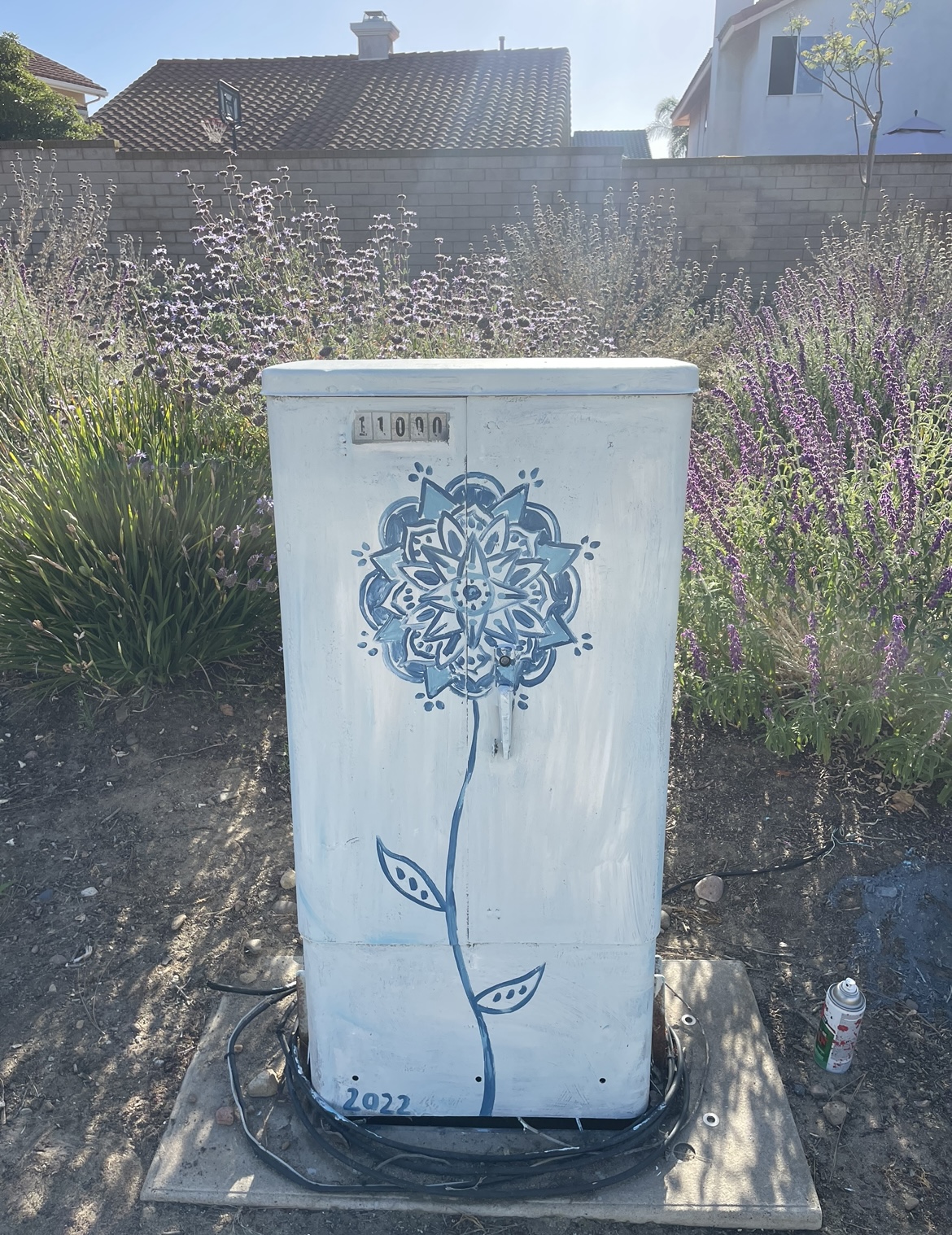 https://www.facebook.com/miramesa.art
Duties:
Besides beautifying the whole town there was a lot of other work and the painting was the funner part.  First I had to do meetings in front of different groups of people to present ideas and or sketches for public art. I conducted meetings with local artists and went to various schools within the town. I rallied high-school art teachers and gained volunteer student artists as well. I maintained a face-book account to spread awareness of our project so as to let people know what we were doing was a good thing for the town (because the police kept being called). I kept in contact and collaborated with city people about getting certain permits. I had to appraise, repair, manage, and sometimes I got to paint my own art. I supervised and coordinated volunteers for the painting of public art and we would sometimes have 3 to 20 depending on the day. Some of the art would become vandalized and I would have to repaint (fix) or completely paint over those public works. Besides painting on electrical SDG&E boxes we painted murals for the elementary schools and helped paint the rec center among other things.
If you would like to support our public arts project you can donate to the link below that the Mira Mesa Town Council has graciously created for us.  Thank you neighbors!